بلوچی شرگداری ءِ راجدپتر
Background of Balochi Criticism
Keywords:
Criticism, Criticism history
Abstract
Criticism in the Balochi literature is quite new. It starts in 1950s when the Baloch writers start writing prose. From 1950 till date, the Balochi Criticism has developed in the course of time.                
This paper focuses a short history of Balochi criticism, its development and drawbacks in the Balochi literature.
References
سرشون
۔ابنِ حنیف،مصرکاقدیم ادب، سیمی جلد،بیکن بکس،1992، ت 598
۔پداھمیش،ت600
۔پداھمیش،ت598تا599
۔پداھمیش،ت599
۔پداھمیش،ت602
۔فقیرشاد،میراث بلوچستان اکیڈمی تربت،2008ت111
۔صبادشتیاری۔سیدھاشمی۔شخصیت اورفن،اکیڈمی ادبیات 2006ت 35
۔پداھمیش،ت35
۔عبدالخالق آفاقی۔حقیقت شاعری(نبشتانک) اومان،اپریل1951،ت 21
۔پداھمیش،ت 21
۔پداھمیش،ت22
۔پداھمیش، ت22
۔اے،آرداد۔وتی شوھازءَ(نبشتانک)سہ ماہی دردجنوری تامارچ 2005ت64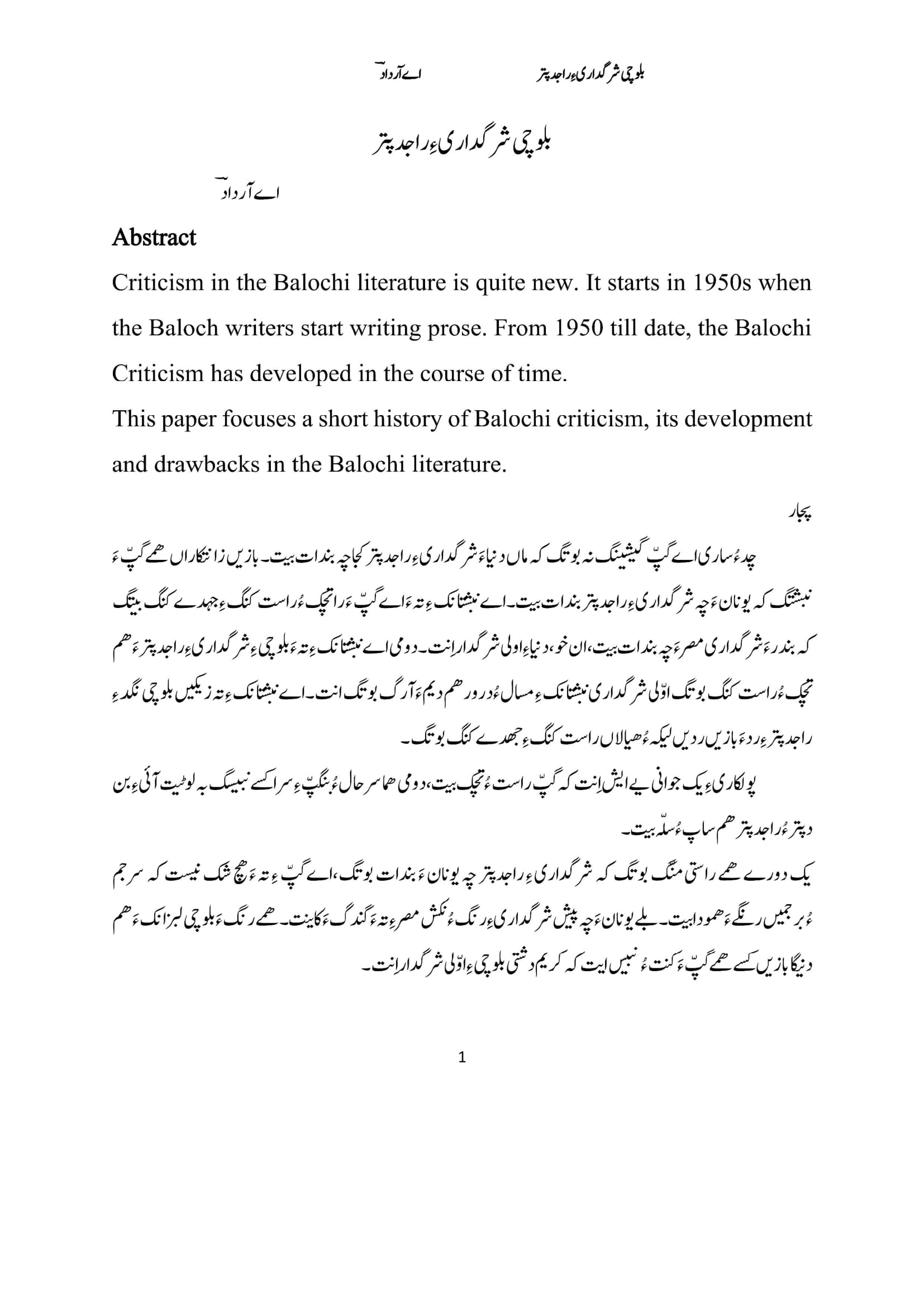 Downloads
How to Cite
Dad, A. (2015). بلوچی شرگداری ءِ راجدپتر: Background of Balochi Criticism. Hanken, 7(1), 1–11. Retrieved from http://hanken.uob.edu.pk/journal/index.php/hanken/article/view/96