بلوچی لبزانک ءَ گدار نویسیءِ ربیّت
the tradition of novel in balochi literature.
Keywords:
British, London, successful
Abstract
A thorough study of Balochi manuscript informs us that it is not so old, while it had been started with the British rule in Balochistan. according to some Baloch prose writers, the oldest  manuscripts belongs to "Bahram Shah Jamal" and "Otman Kalmati" and said that these manuscripts are available in the British museum library London, but till today no one was successful  to prove the availability of the above mentioned manuscripts, so that we consider the manuscript of Kamalan Khan Gichki as first manuscript of Balochi prose, and research proved it that after one hundred and fourty three years of "Kamalan Khan Gichki,s" manuscript,the first Balochi novel "NAZUK" had been written by Sayyad Zahoor Shah Hashumi, but novel writing and publishing trend in balochi tilterature was very slow at the beging stage,only eight novel had been published during thirty six years after  the  hashmi,s novel ''NAZUK'',but after 2002 a new trend has been started and during these thirteen years more then eighty novel had been written and published.
This paper illustrates the different stages of Balochi prose and the tradition of novel writing in Balochi literature.
References
۔بلوچ، ڈاکٹر عبد ا لصبور، بلوچی قصّہی لبزانک،کوئٹہ، بلوچی اکیڈمی، 2013، تاکدیم،282
۔بلوچ، طاہر حکیم، بلوچی ردانک ءِ نوکیں سفر، کوئٹہ، بلوچی لبزانکی دیوان،2013، تاکدیم،152
۔بلوچ، ڈاکٹر عبد ا لصبور، بلوچی قصّہی لبزانک،کوئٹہ، بلوچی اکیڈمی، 2013، تاکدیم،281
۔ہاشمی،سید،نازُک،کراچی، ندکار چاپ شنگ،1976،تاکدیم،4
۔ہمیش،تاکدیم،4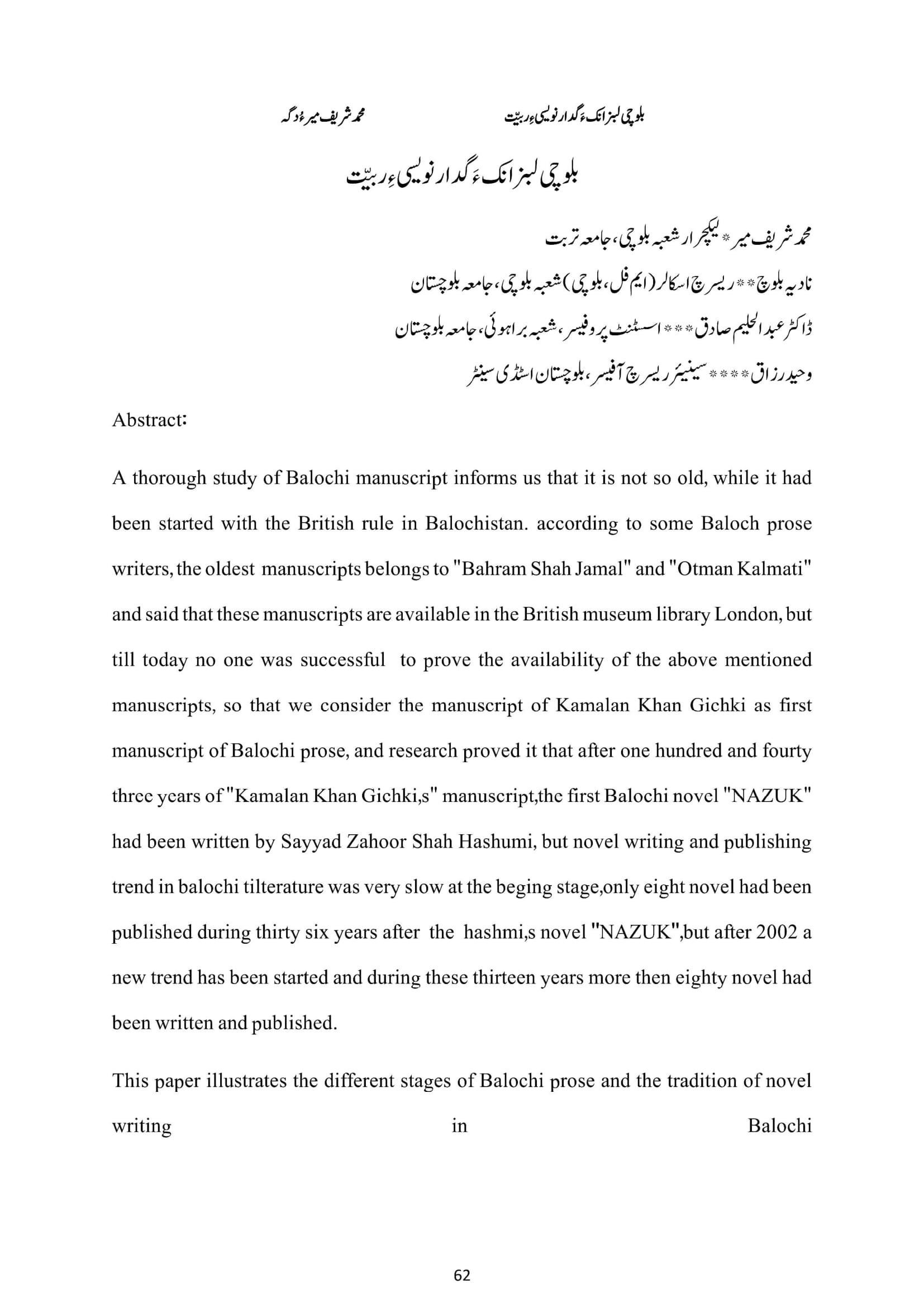 Downloads
How to Cite
Meer, M. S., Baloch, N. ., Sadiq, D. H., & Razzaq, W. (2016). بلوچی لبزانک ءَ گدار نویسیءِ ربیّت: the tradition of novel in balochi literature. Hanken, 8(1), 62–75. Retrieved from http://hanken.uob.edu.pk/journal/index.php/hanken/article/view/94