Program Evaluation of School of Intensive Teaching (SIT) in Balochistan: A comparative study of Texas and Balochistan Education Policy on ESL
Keywords:
Applied Linguistics, English for the Speaker of Other Languages (ESOL), English as a Foreign Language, English Language Learners (ELL), and Teaching English in Balochistan.
Abstract
Zahir Hussain, also known as (AKA) Sir Zahir, had just arrived in Pakistan after attending Vincennes University at Vincennes, Indiana, where he had received his Associate of Arts Degree in English and teaching English as a Second Language (ESL), when he decided to initiate a language institute in the name of American Language Center. After mobilizing his painstaking efforts with meager resources, he finally established this non-profit English language teaching institute at Panjgúr in the year 1993. He currently runs a state of art English language Institute in the name of School of Intensive Teaching (SIT) at Hub. His facility is equipped with the cutting edge technology, effective teaching methodologies, and a language teaching and learning library.
The first part of this paper informs its audience about the difficulties Zahir has faced, animosities he has endured, and challenges he has overcome in his trajectory as an English language teacher. The second part extensively compares and contrasts American State of Texas"s Education Policy (Texas Education Agency"s Chapter 89) mandated for English as a Second Language (ESL) Program for its public schools.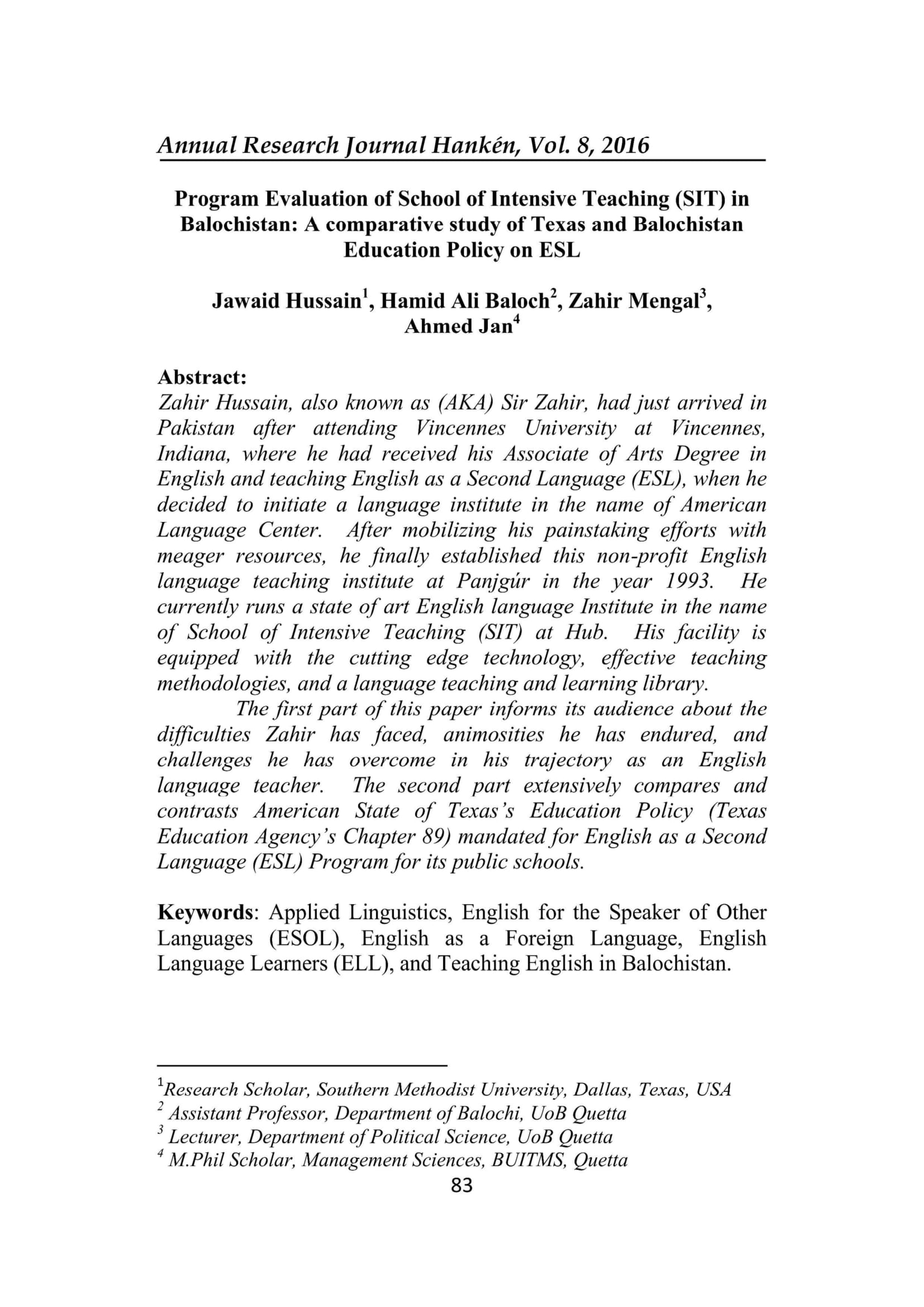 Downloads
How to Cite
Hussain, J. ., Baloch, H. A. ., Mengal, . Z., & Jan, . A. . (2016). Program Evaluation of School of Intensive Teaching (SIT) in Balochistan: A comparative study of Texas and Balochistan Education Policy on ESL. Hanken, 8(1), 83–89. Retrieved from http://hanken.uob.edu.pk/journal/index.php/hanken/article/view/85