Geostrategic Importance of Gwadar and Chabahar: A Comparative Study
Keywords:
CPEC, North-South Transport Corridor, Geostrategic Importance, Insurgency, Sino-Indian Rivalry, Central Asian Gateway, India-Iran-Russia Strategic Triangle
Abstract
The neighboring Gwadar and Chabahar warm-water ports are located on the Makoran Coast of Pakistani Province of Balochistan and Iranian Province of Sistan-Baluchestan respectively. Owing to their strategic location at the mouth of the Strait of Hormuz where an estimated 17-18 million barrels of crude oil passes daily, their commercially vital sea ports and the presence of India and China (two strategic-cum-economic regional competitors), it is extremely vital to undertake a scientific but comparative study the two strategic port cities of the Indian Ocean. At the mouth of the mouth of the Strait of Hormuz, Persian Gulf meets the Arabian Sea of the
Indian Ocean. Since low-level insurgencies active in both provinces–ethno-nationalist insurgency in Balochistan and sectarian insurgency in Sistan-Baluchestan–it is therefore more pertinent to undertake an academic discourse to identify the strategic pros a and cons of this substantial region for the policy makers. The presence of the world"s fastest growing economies along with largest armies amid historic enmities has made this small strip of coastline as the jewel of the Indian Ocean"s crown. China has world"s largest armed forces followed by the USA and India. The existence of the US Fifth Fleet in the offshore waters of Bahrain in the Persian Gulf add more importance to this region where both Gwadar and Chabahar envisage to be the future gateways of the oil-rich but landlocked region of Central Asia besides the convergence and divergence of the national interests of many great powers. The geostrategic importance of the two neighboring port cities is constantly sending strategic waves across the regional waters and beyond. This important region straddled across Pakistan and Iran"s frontier (Balochistan and Sistan-Baluchestan) bridges three sub-regions of Asia: South Asia, Central Asia and Southwest Asia. The implication of the geopolitical proximity of these neighboring sea ports is part of the academic as well as policy-making discourses of the major capitals around the world. The shifting dynamics of regional and extra-regional politics and enhanced sea trade have maximized the unique geopolitical and geostrategic significance of Iran"s Chabahar Port and Pakistan"s Gwadar Port.
References
Ahmad, Azhar. (2015) Gwadar: Potential and Prospects, Institute for Conflict and Security Studies Islamabad. http://www.picss.net/wp-content/uploads/2015/02/Dr-Azhar-Gwadar-Potential-Prospects.pdf
Ahmed, Ayaz. (2015, October 11) Gwadar vs Chabahar, The News.
Ajaz, Aymen. (2015, August 20). Significance of Gwadar
Port, IPRI, August 20, 2015. http://www.ipripak.org/significance-of-gwadar-port/#sthash.TMo1KXZ5.dpbs
Aziz Faiz, Hamal Kalmati: a symbol of arousal, Bolan
Voice, June 2013 Edition. https://bolanvoice.wordpress.com/2014/01/31/hamal-kalmati-a-symbol-of-arousal/
Badalkhan, Sabir. (2009, September). Portuguese encounters with Makoran Baloch during the sixteen century, Vol.19, Issue 02, Royal Asiatic Society of Great Britain and Ireland, London: Cambridge University Press, September 2009, p.48.
Berlin, Donald L. (2004, October). India Iran Relations; A deepening Entente, Asia-Pacific Center for Security Studies
Special Assessment. http://apcss.org/Publications/SAS/AsiaBilateralRelations/In dia-IranRelationsBerlin.pdf
Bokhari, Sitwat Waqar. (2015, July 25). Iran's Chabahar
Port and the Strategic Turf War, ViewsWeek. http://viewsweek.com/south-asia/pakistan/irans-chabahar-port-and-the-strategic-turf-wars/
Chinese plans in Seychelles revive Indian fears of encirclement. (2012, March 22). The Guardian. http://www.theguardian.com/world/2012/mar/22/china-seychelles-indian-fears-encirclement
Decline in Afghan transit trade. (2013, April 29), Dawn.
Ebrahim, Zofeen T. (2015, April 20). China's new Silk road: What's in it for Pakistan, Dawn.
Fair, Christina. (2007, March 16). Indo-Iranian Ties: Thicker than Oil. Nonproliferation Policy Education Center, http://www.npolicy.org/article.php?aid=270&rtid=2
Fatima, Qamar, Asma Jamshed. (2015, July-December) The Political and Economic Significance of Indian Ocean: An Analysis, South Asian Studies, Vol. 30, No.2, p. 73. http://pu.edu.pk/images/journal/csas/PDF/5%20Qamir%20F atima_30_2.pdf
Fazal-e-Haider, Sayed. (2007, January 15) Gwadar and Oil Politics, Dawn.
Haidari, M. Ashraf. (2015, Sept. 16) India and Afghanistan:
A Growing Partnership, The Diplomat. http://thediplomat.com/2015/09/india-and-afghanistan-a-growing-partnership/
How Iran's nuclear deal affects India. (2015, July 16) BBC. http://www.bbc.com/news/world-asia-india-33547061
Heydarian, Richard Javad. (2014, March 11). South China Sea Dispute: The gloves are off, Aljazeera. http://www.aljazeera.com/indepth/opinion/2014/03/south-china-sea-disputes-gloves-201431152920241884.html
India wants to deny Pakistan strategic depth in Afghanistan: US report. (2015, Nov. 04). Dawn.
India to sign port deal with Iran, Ignoring US warning
against haste. (2015, May 5). Reuters. http://www.reuters.com/article/india-iran-port-idUSL4N0XV16J20150505
India-Iran-Afghanistan transit corridor talks in progress: V K Singh. (2016, March 02) The Economic Times. http://economictimes.indiatimes.com/news/politics-and-nation/india-iran-afghanistan-transit-corridor-talks-in-progress-v-k-singh/articleshow/51225529.cms
Kennedy, Scott, & David A. Parker. (2015, April 03).
Building China's ―One Belt, One Road, Center for Strategic & International Studies, http://csis.org/publication/building-chinas-one-belt-one-road
Geostrategic Importance of Gwadar and Chabahar: A Comparative Study
Khan, M. Ilyas. (2015, May 06) What lies behind Pakistan
charges of India Terrorism, BBC. http://www.bbc.com/news/world-asia-32604137
Kugelman, Michael. (2015, May 08). Examining the implications of the Indo-Iranian Chabahar port deal, Deutsche Welle (DW) http://www.dw.com/en/examining-the-implications-of-the-indo-iranian-chabahar-port-deal/a-18439937
Mohan, C. Raja. (2003, January 31).Tending to the
Neighborhood, The Hindu. India Pushing Hard for Chabahar Port in Iran. Editorial. (2015, May 07). Indian Express. http://www.newindianexpress.com/editorials/India-Pushing-Hard-for-Chabahar-Port-in-Iran/2015/05/07/article2800766.ece
Modi govt. keeps Pakistan out of regional plans, sign pacts with other countries. (2015, June 23). Hindustantimes, http://www.hindustantimes.com/india/modi-govt-keeps-pakistan-out-of-regional-plans-signs-pacts-with-other-countries/story-4XH4KILb34lU2qBR3Nd7iN.html
Naji, Kasra. (2016, January 18). Iran nuclear deal: Five effects of lifting sanctions, BBC.
http://www.bbc.com/news/world-middle-east-35342439
Osmani, Ruhollah. (2016, Feb 5). Chabahar Port: A win for
South Asia, Foreign Policy, http://foreignpolicy.com/2016/02/05/chabahar-port-a-win-for-south-asia/
Pak-Afghan Trade: Discussion Paper, (2011, December)
PILDAT, December 2011. http://www.pildat.org/publications/publication/FP/Pak-AfghanTrade-DiscussionPaperDec2011.pdf
Perkovich, George. (2003-04 winter)Is India a Major Power, The Washington Quarterly, Vol. 27, No, p. 129
Ramachandran, Sudha. (2005, January 12). The Glue that
Bonds India Iran, The Asian Times. http://www.atimes.com/atimes/South_Asia/GA12Df05.html
Ramachandran, Sudha. (2016, March 30). Iran, China and
the Silk Road Train, The Diplomat http://thediplomat.com/2016/03/iran-china-and-the-silk-road-train/Rumley, Dennis, & Sanjay Chaturvedi. (EDs.). (2015), Energy Security and the Indian Ocean Region, New York: Routledge Taylor & Francis Group, pp. 63-65
Shah, Sayed Mudassir Ali. (2015, May 10) Chabahar vs Gwadar, Dawn.
Sreenivasan, T.P. (2007, February 12). Pranab's Iran visit a
signal to the US, Rediff India Abroad. http://www.rediff.com/news/2007/feb/12tps.htm
Tan, Huileng. (2016, Jan. 25) China tilts to Iran as Xi caps
visit with 17 accords, CNN. http://www.cnbc.com/2016/01/25/china-tilts-to-iran-as-xi-caps-visit-with-17-accords.html
World Oil Transit Chokepoints (2014, Nov. 10), US Energy Information Administration.https://www.eia.gov/beta/international/regio ns-topics.cfm?RegionTopicID=WOTC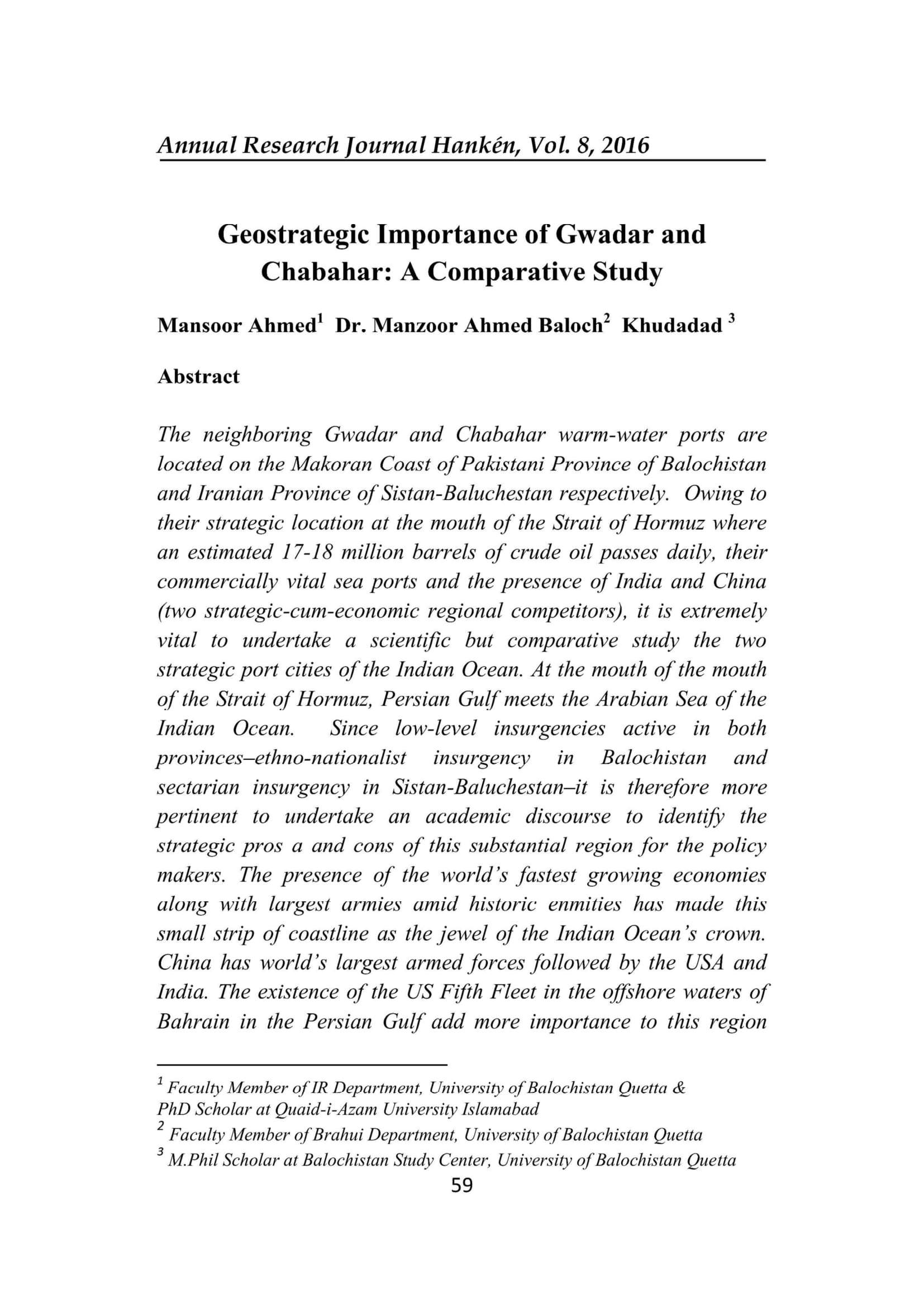 Downloads
How to Cite
Ahmed, M. ., Baloch, . D. M. A. ., & Khudadad. (2016). Geostrategic Importance of Gwadar and Chabahar: A Comparative Study. Hanken, 8(1), 59–82. Retrieved from http://hanken.uob.edu.pk/journal/index.php/hanken/article/view/84