MIR CHĀKAR KHAN RIND AT SATHGARAH
Keywords:
Sher Shah Suri, Satghara, Mír Chākar, tomb Satghara, Humayun.
Abstract
Mír Chākar was the ruler of Balochistan in today's Pakistani region. His rule came to end for several years due to some internal and tribal clashes. He had to migrate from Balochistan to the Punjab in 1520 AD.
This paper focuses on Satghara, where Mír Chākar spent the rest of his days in Punjab. He gained a vast area in the south Punjab through his bravery and steadfastness. Near "Okaŕa", he settled an area full of civilized people and built seven castles around to protect the city called "Satghara" where, even today, his tomb stands as a pride for the Baloch people and proof of his rule in the Punjab. This paper aims to highlight the political activities of Mír Chākar Rind from his relationship with Satghara till his refusal of "Sher Shah Suri".
References
Ahmad, Syad Iqbal (1992) Balochistan its strategic importance Royal book company Karachi
Akram, Sheikh Muhammad (1997) Rod Kosar (Urdu book) Adara Sikafat Lahore
Aslam, Sheikh Naweed (2008 ) pakistan k Asar kadima (urdu book
) nasher book home, Lahore
Baloch , Sadiq Ali (2009) Tarikh Balochan Hind ( History of Baloch in India) Takhliqat Lahore
Behgam, Gul Badan (1995) Humayun Nama translation Rasheed Akhtar Nadvi Sing mail publication, Lahore.
Bukhari, syed Muhammad Shah (1987) Balochistan Zamana Kadeem Se Pakistan Tk Bukhari Traders Quetta
Faridi ,Mulana Noor Ahmad (2014 )Baloch Kom or is ki Tarikh Balochi Academy Quetta
Kurd , B.A Raman (2015 ) Nawai Bolan setting by Dr Salim Kurd Behravi Academy Quetta
Marri , Mir Khuda Bakhsh Bijrani (1985) Search Light on Baloch and Balochistan third edition Nisa traders Quetta
McLagan ,E.D (2012 ) Zaton ka Encyclopedia H.A Rose translated by Yasar Jawad book home Lahore
Qadri, Ikhlaq Ahmed (2011) Tarikh o Tamadin Multan, Ilm o Irfan publishers Lahore
Qanoon Goh ,Qalqarjin (1996 ) sher shah suri or iska ahid ( History of sher shah ) Takhliqat, Lahore
Durdana Mola Bakhsh & Zahid Dashti
Rind, Abdulqadir (20feb2004) Chākar Azum ka Sathgarah(Email
:dihqk@qta.paknet.com.pk ) daily intekhab Quetta
Shahwani ,Asir Abdul Qadir (2014) Balochistan ki namor Histian (Important personalities of Balochistan ) New college publication Quetta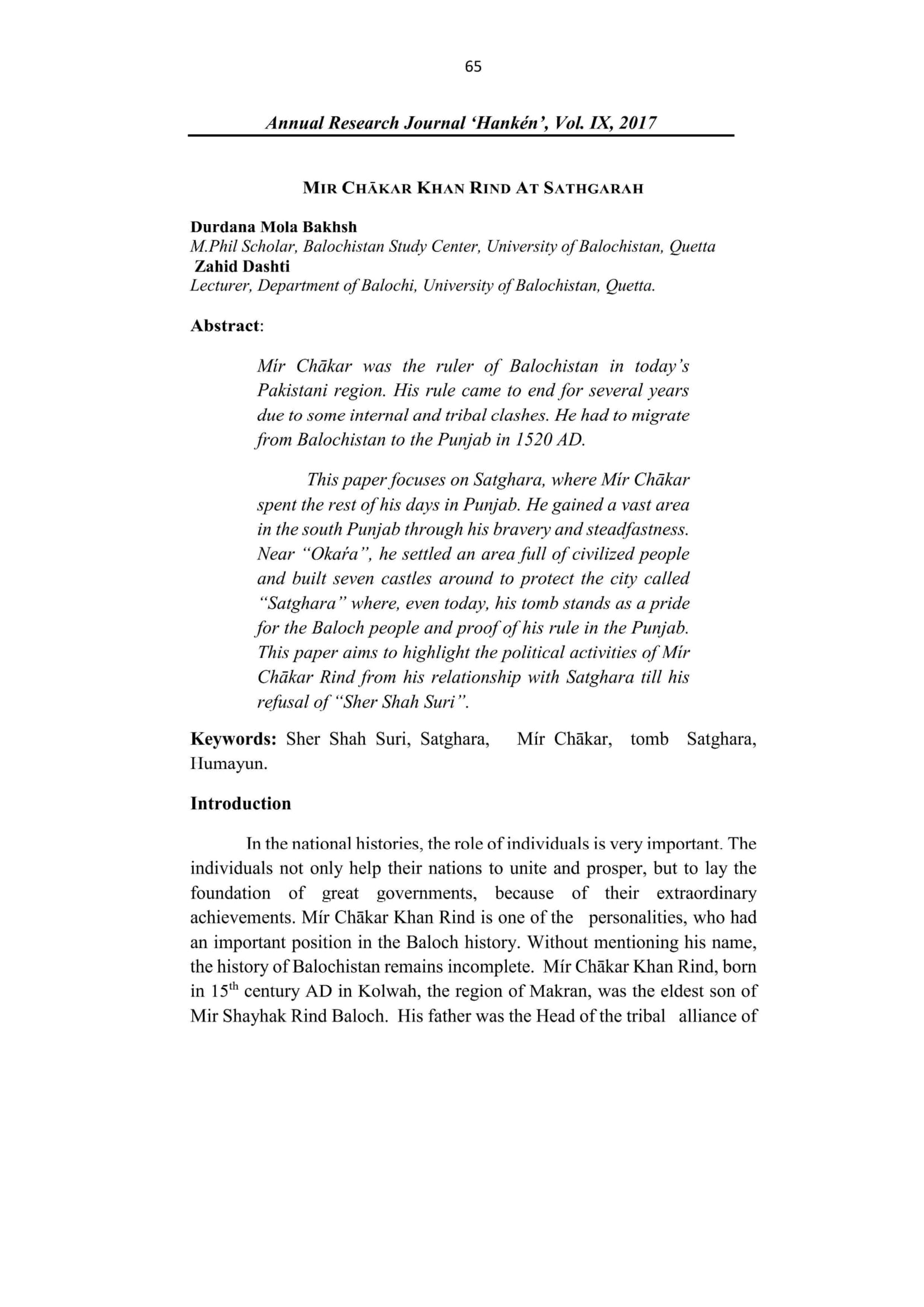 Downloads
How to Cite
Bakhsh, D. M. ., & Dashti, Z. . (2017). MIR CHĀKAR KHAN RIND AT SATHGARAH. Hanken, 9(1), 65–75. Retrieved from http://hanken.uob.edu.pk/journal/index.php/hanken/article/view/77