THE ROLE OF BALOCH PEOPLE IN THE ECONOMIC DEVELOPMENT OF UAE
Keywords:
United Arab Emirates, State, Baloch, Gulf, Economy, Labor and Workers
Abstract
The Baloch people are also living in the United Arab Emirates and Persian Gulf besides Balochistan. But they are working in different countries as well. Baloch have been living in Gulf Region prior to the formation of modern states. Baloch have cultural similarities and norms with the Arabs, The Iranian province of Sistan va Baluchistan is located near the Persian Gulf. The proximity of Baloch region with the adjacent Arab regions has brought the people of both regions in contact with each other since early times. Arab chronicles mention Baloch presence in region during the 10th century and earlier then it. Later many of the Baloch people shifted the from the Southern Makoran coast. The financial and economy development of the United Arab Emirates is strong reason of its visionary governmental policy. Moreover, it is also sound character of the leadership of United Arab Emirates. When the oil was discovered, in the period of 1960, the head of United Arab Emirates adopted modern labors policy, tourism policy, and construction policy for developing of his country. The paper discusses and analyses the role of Baloch diaspora in UAE and the economic development of Dubai.
References
Al Awad, Mouawiya. 2010. "The Cost of Foreign Labor in the United Arab Emirates". Institute for Social & Economic Research, Zayed University.
Working Paper No. 3. Available online.
Agunias, Dovelyn Rannveig. 2010. "Migration's Middlemen: Regulating Recruitment Agencies in the Philippines-United Arab Emirates Corridor." Washington, DC: Migration Policy Institute.
Cleveland: (2010): Persian Gulf. "Encyclopedia of Earth" [Online]. Available at: http://www.eoearth.org/article/Persian_Gulf;
Hettne, Björn. (2001). "The Political Economy of the United Arab Emirates: An Analysis of the UAE as an Oil Rentier State". Oslo: University of Oslo (Unpublished Thesis).
Almezaini, Khalid. (2010). "Private Sector Actors in the UAE and their Role in the Process of Economic and Political Reform". [Online]. Available from
˂http://arab-reform.net/IMG/pdf/Private_Sector_Actors_in_the_UAE.pdf˃ (Accessed, 27 May, 2011)
Brown, Matthew. (2007). "UAE's Drive for Emirati-Run Economy Is Thwarted by Handouts" (Octber 7) [Online]. Available from. www.bloomberg.com/apps/news?pid=news (Accessed 21st November 2012).
Farhan,Z. (2013) "Dubai developer to tour Pakistan this week", Express Time.
Jahani,C. (1989) "Standardization and Orthography in Baloch language" Uppsala University, Sweden
J.E Peterson. (2014) "The Baloch presence in the Gulf".
Nissar,H.(2006) "Sharjah Baloch fights to start in may". Gulf news.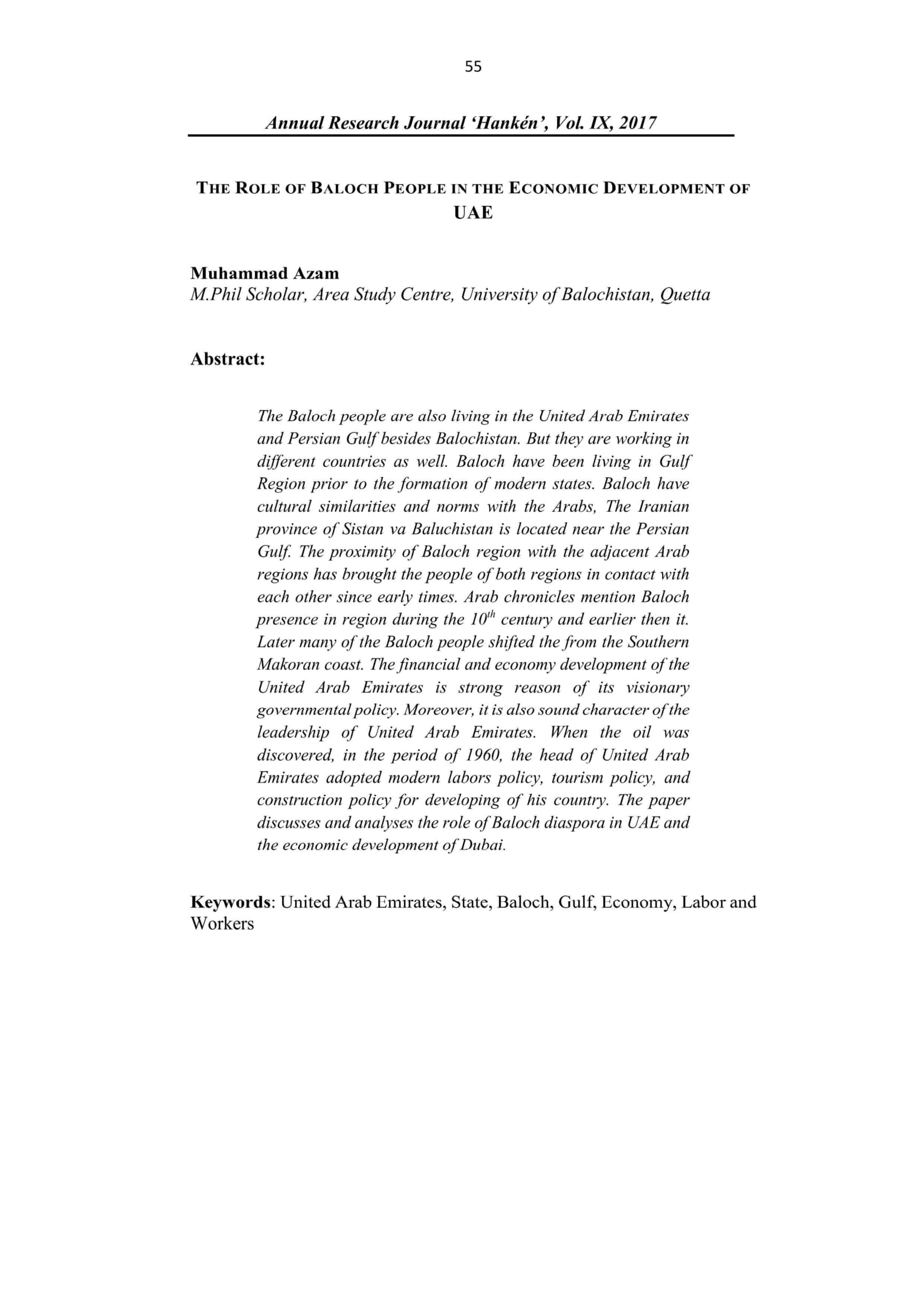 Downloads
How to Cite
Azam, M. . (2017). THE ROLE OF BALOCH PEOPLE IN THE ECONOMIC DEVELOPMENT OF UAE. Hanken, 9(1), 55–64. Retrieved from http://hanken.uob.edu.pk/journal/index.php/hanken/article/view/76