THE RULE OF MIR NASEER KHAN NURI AND ITS SALIENT FEATURES
Keywords:
Balochistan., tribal, policies,
Abstract
 The paper revolves around the personality of Nasír
Khan the Great who was a visionary leader in the history of Balochistan. He was a devout man, a sagacious ruler, a statesman, a warrior, and a capable administrator who managed his tribal confederacy quite intelligently.
Nasír Khan-1 who ruled over Balochistan for about 44 years, comprising of a vast territory, but highlights and selects the administrative boundaries, administrative set- up Darbār (court) hierarchy, legislature consisting of the Díwān (lower house) and upper house (elders of Khan's own family). The Khan's taxation policies, his military prowess, agriculture products of his time and trading commodities of his era have also been considered as a golden age of time.
References
Ahmed,A. (1973) The Historical Background of Pakistan and its People, Tanzeem Publishers.
Army Intelligence Report (1979) Frontier and overseas expeditions from India, Nisa Traders, Quetta, vol.1.11. 111, p.120
Baloch, D,I. (1987)The Problem of Greater Balochistan. Stuttgart : Steiner Verlag Wiesbaden.
Harrison,S. (1981) In Afghanistan's Shadow. New York: Carnegie Endowment.
Khan, M.A.Y.(1947)Tarikh-e-Khawanin Baloch, Islamia Press, Quetta, Khan, M,A, Y. (1975) Inside Balochistan. Quetta: Royal Book Company.
Khan,M,S. (1977) History of Baloch race and Balochistan, Quetta: Gosha-e- Adab.
Masson, C. (1976) Journey to Kalat. Karachi: Indus Publications.
Mohammad, J. (1982). The Baloch cultural heritage. Karachi: Royal Book Company.
Pottinger, H. (1976) Travels in Balochistan and Sindh. Indus publications.
Shah, D,M,A. (2008) Essays on Balochistan, Society, Polity ad Tribal Administration, Lahore: Classic.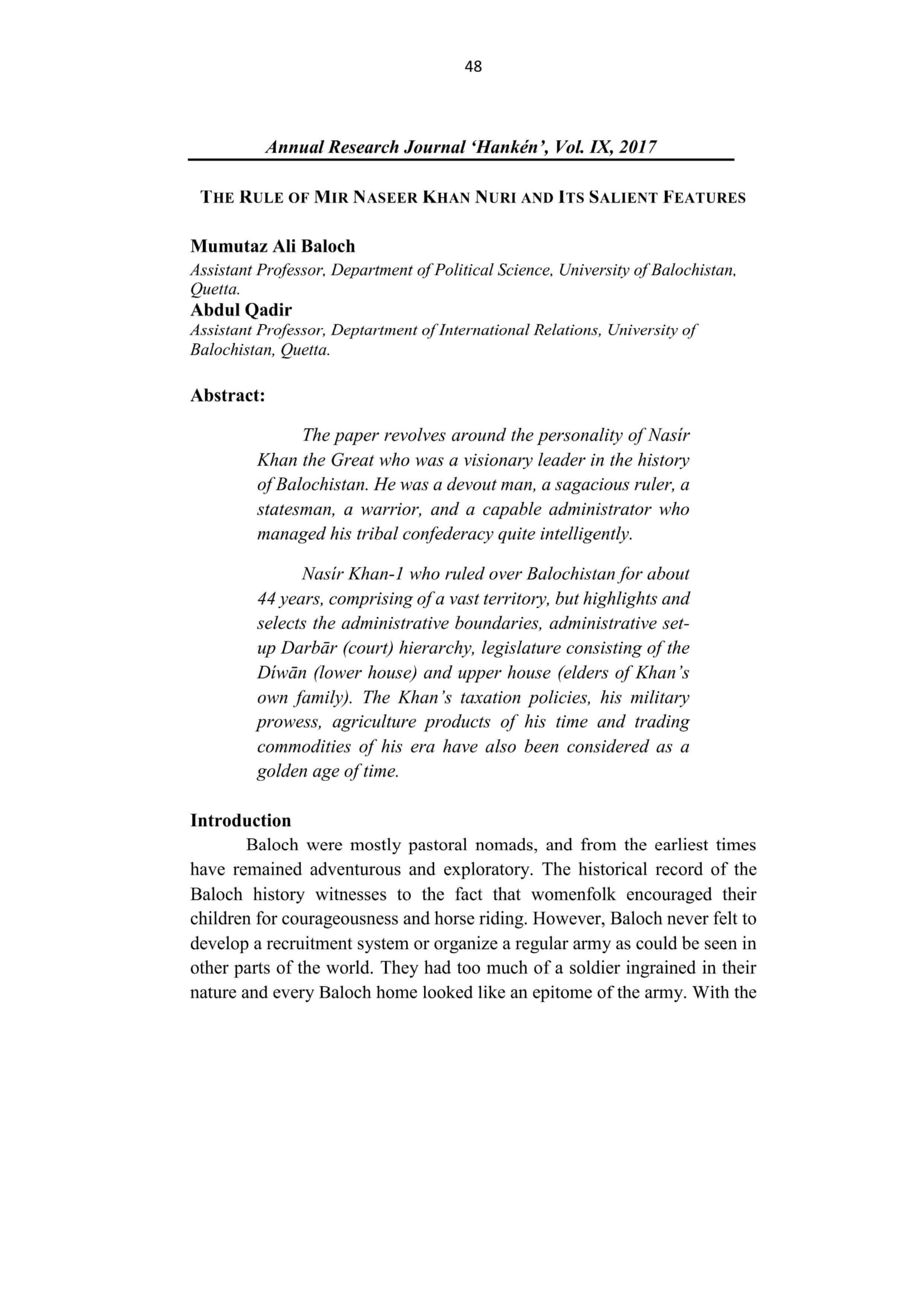 Downloads
How to Cite
Baloch, M. A. ., & Qadir , A. W. (2017). THE RULE OF MIR NASEER KHAN NURI AND ITS SALIENT FEATURES. Hanken, 9(1), 48–54. Retrieved from http://hanken.uob.edu.pk/journal/index.php/hanken/article/view/73