CONTACT OF THE BALOCHI LANGUAGE IN ANCIENT TIMES: AN OVERVIEW
Keywords:
Balochi, language contact, OP, NP, Avesta and Pahlavi
Abstract
Balochi has been contact with the Iranian as well as the Indo Aryan Languages from thousands years. In this paper the lexical, morphological, phonological and syntactical changes in Balochi with the contact languages will be synthesized that how Balochi has borrowed or adopted or assimilated the lexemes of the neighboring languages and how the Balochi language played a role as a donor language.
References
References
Abdul Raza Saif, M. A. (1396 H. J). Masayeqa Tatbeeqi Zarbul Mislahaee Balochi wa Farsi. Faslnama Taxassusi Subakshunasi Nazm wa Nasr Farsi (Bahar e Adab), 377-378.
Alawad, M. (2010). the cast of foriegn labor in UAE. online, paper No 3.
Al-baloushi, N. D. (1994). Al-jawahir al-manqoosh fi Tarikh al-baloush. Beirut: Dar ul Wasam.
Azeema Mullazahi, A. H. (2016). Bar rasi Waziyat wa Mushkilat Zuban Amoozi Manatiq dar do Zubana Farsi wa Balochi. Internation Conference on Literature and Linguistics (pp. 1-9). Sarawan: Sarawan University, Seistan wa Baluchistan, Iran.
Badalkhan, S. (2016, August 20). baask.com/literature. Retrieved from www.baask.com: http:/baask.com/literature
Baloch, A. A. (2017, September 12). Position of the Balochi language in the Punjab. (H. A. Baloch, Interviewer)
Baloch, M. Y. (2017, August 5). The situation of Balochi language in Sindh. (H. A. Baloch, Interviewer)
Baloch, R. U. (2017, September 20). Assimilation and Marginalization of the Balochi Language in Punjab. (H. A. Baloch, Interviewer)
Balushi, H. (2007). English to Baluchi and Baluchi to English Dictionary. Karachi: Syed Zahoor Shah Reference Library, Malir, Karachi.
Baranzahi, A. N. (2003). The Sarawani Dialect of Balochi and Persian Influence on It. In A. K. Carina Jahani, The Baloch and Their neighbours: Ethnic and Linguistic Contact in Balochistan in Historical and Modern Times (pp. 75- 85). Wiesbadan: Reichert Verlag Wiesbadan.
Dames, M. L. (1988). Popular Poetry of the Baloches Vol.1, Vol. 2. Quetta: Balochi Academy, Adalat Road Quetta.
Dehwar, M. S. (2007). Tarikh e Balochistan. Quetta: Balochi Academy Quetta.
Contact of the Balochi Language in ancient Times: An Overview
Dovelyn, R. M. (2010). recruitment agencies in the philphine and UAE corridor.
online article.
Duka, T. (1887). An Essay on the Brahui Grammar, after the Germna of the Late Dr. Trumpp, of the Munich University. Journal of the Royal Asiatic Society of Great Britain and Ireland, New Series, Vol. 19, No. (January), 59-65.
Emeneau, M. (1997). Brahui Etymologies and Phonetic Developments: new items. Bulletin of the School of Oriental and African Studies, University of London, Vol. 60, No.3, 440-446.
emirates, E. o. (n.d.). labor right in UAE. washington DC.
Encyclopedia, W. (2017, September 12). Wikipedia. Retrieved from Wikipedia Encyclopedia: https://en.wikipedia.org/wiki/Baloch_of_Punjab
Faridi, M. N. (1968). Baloch Qom aur us ki Tarikh. Multan: Qasr ul Adab Writers Forum, Multan.
Holdich, C. S. (1901). The Indian Borderland 1880-1900. London: Methuen and Co. 36 Essex Street, WC, London.
Lashari, A. K. (2017, September 10). The Balochi Language in the Punjab. (H. A. Baloch, Interviewer)
MacDonell, A. A. (1893). A Sanskrit-English Dictionary. Oxfor: Oxford University Press.
McAlpin, D. W. (2015). Brahui and the Zagrosian Hypothesis. Journal of the American Oriental Society, Vol. 135, No.3 (July-September), American Oriental Society, 555.
Naseer, M. G. (1982). Balochistan Qadeem aur Jadeed Tarikh ki Roshni mein.
Quetta: Gosha e Adab, Kabeer Building Jinnah Road , Quetta.
Nissar, H. (2006). sharjah baloch fights to start in may . Gulf news.
Parkin, R. (1989). Some Comments on Brahui Kinship Terminology. Indo- Iranian Journal 32, Kluer Academic Publishers, 37-43.
Hamid Ali Baloch & Dr. Abdul Razzaq Sabir
Spooner, B. (2012). Balochi: Towards a Biography of the Language. In H. Shiffiman, Language Policy and language conflict in Afghanistan and its Neighbors: the changing politics of language choice (pp. 319-336). Brill: Leiden, Boston.
time, K. (2012). information desk forPak-Baloch community.
Trask, R. L. (2000). The Dictionary of Historical and Comparative Linguistics.
Edinburgh: Edinburgh University Press.
Zurutuza, K. (2014, September 26). Afghanistan's re-emerging Baloch. Retrieved from The Diplomat: https://thediplomat.com/2014/09/afghanistans- reemerging-baloch/
Abbreviations:
Bal. Balochi
Skt. Sanskrit Olr. Old Iranian NP. New Persian
NP-Ar. New Persian-Arabic OL.
OP. Old Persian
EHD. Eastern Hill Dialect (Balochi) USSR. Union of Soviet Socialist Republic Sin. Sindhi
SLAs. Sindhi Language Activists DGK. Dera Ghazi Khan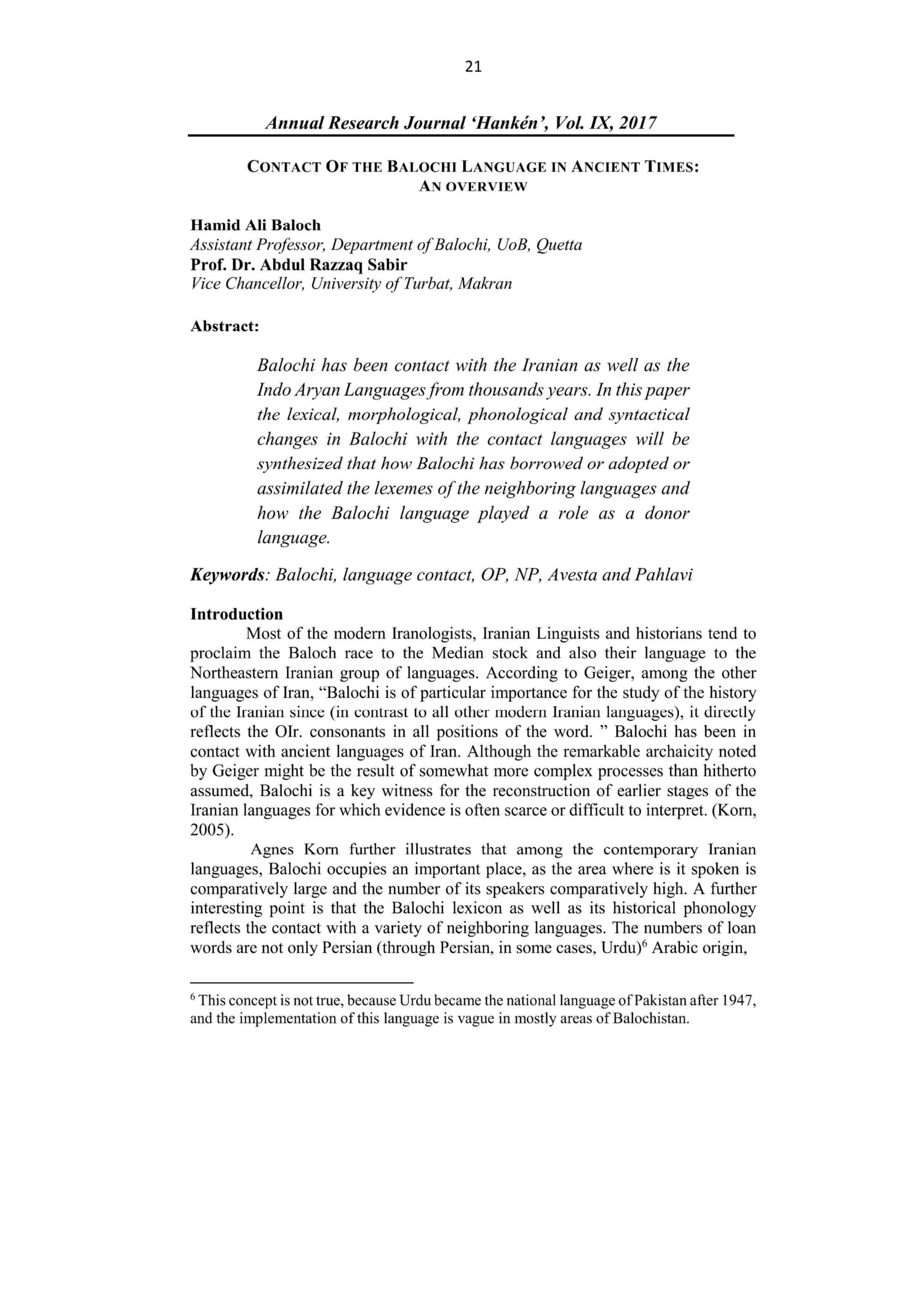 Downloads
How to Cite
Baloch, H. A. ., & Sabir, P. D. A. R. . (2017). CONTACT OF THE BALOCHI LANGUAGE IN ANCIENT TIMES: AN OVERVIEW. Hanken, 9(1), 21–38. Retrieved from http://hanken.uob.edu.pk/journal/index.php/hanken/article/view/71