غوث بخش صابرءِ کسمانک نویسی
The dramatic writing of Ghous Bakhsh sabir
Keywords:
Drama, review, development, stage, sound, start, based, functions, joint, material, borders.
Abstract
Stage Dramas are considered to be the ancient art of universal history to bring the people of other communities together. Dramas used to make the people jubilant whey they watched plays.
 When Pakistan became a separate country where stage plays were played in Pakistan, probably in 1949 or 48.  Karachi became the center of radio Pakistan, and there, the Baloch writers wrote a considerable number of plays for the radio which were staged in different occasions.  Mr. Ghaus Bakhsh Sabir has been a great play writer in Balochi who wrote many plays for radio as well as for the Television. He was not only a play writer, but a researcher, and a poet. He wrote several books for the children, but his plays which he wrote for the radio and TV become his fame all over Balochistan.
This paper illustrates his services in the field of drama writing
References
حشر،آغا،(2003)ڈرامہ، افسانوی نثروڈرامہ،مرتب، پروفیسرگلزارمحمد،علمی کتاب خانہ لاہور
پراچہ، احمد،(2002)پاکستان اردو ادب اورایل قلم خواتین،نیشنل بک فاونڈیشن ،اسلام آباد
اختر،سلیم ڈاکٹر،(2006)اردو ڈرامہ، اردو ادب کی مختصرترین ،سنگ میل
شاہوانی عبدالقادر،اثیر،(2013)بلوچی کسمانکءِ تاریخ(نبشتانک)بلوچی ردانک ءِ نوکیں سفر،مرتب،طاہرحکیم، بلوچی لبزانکی دیوان
شاد،عطا،(2013)کسمانک ماں بلوچی ءَ (نبشتانک)بلوچی ردانک ءِ نوکیں سفر،مرتب،طاہرحکیم، بلوچی لبزانکی دیوان
دوست علی ڈاکٹر،(2007)بلوچی دیوان گوشہ ادب کوئٹہ
خالق،فضل،ڈاکٹر،(2010)رُستگیں نود،بلوچی اکیڈمی کوئٹہ
صابر،غوث بخش، (1996)گوہرءِ درپش،بلوچی اکیڈمی کوئٹہ
بلوچ خان،(2015) واجہ غوث بخش صابرءِ ازم ءِ چیزے پہنات، ماہتاک بلوچی زند، فروری
بلوچ، علی دوست،ڈاکٹر،(2015)بلوچی زبان ءِ نامداریں نبشتہ کار، زانت کار ءُ شاعرغوث بخش صابر،ماہتاک بلوچی زندنوشکی، فروری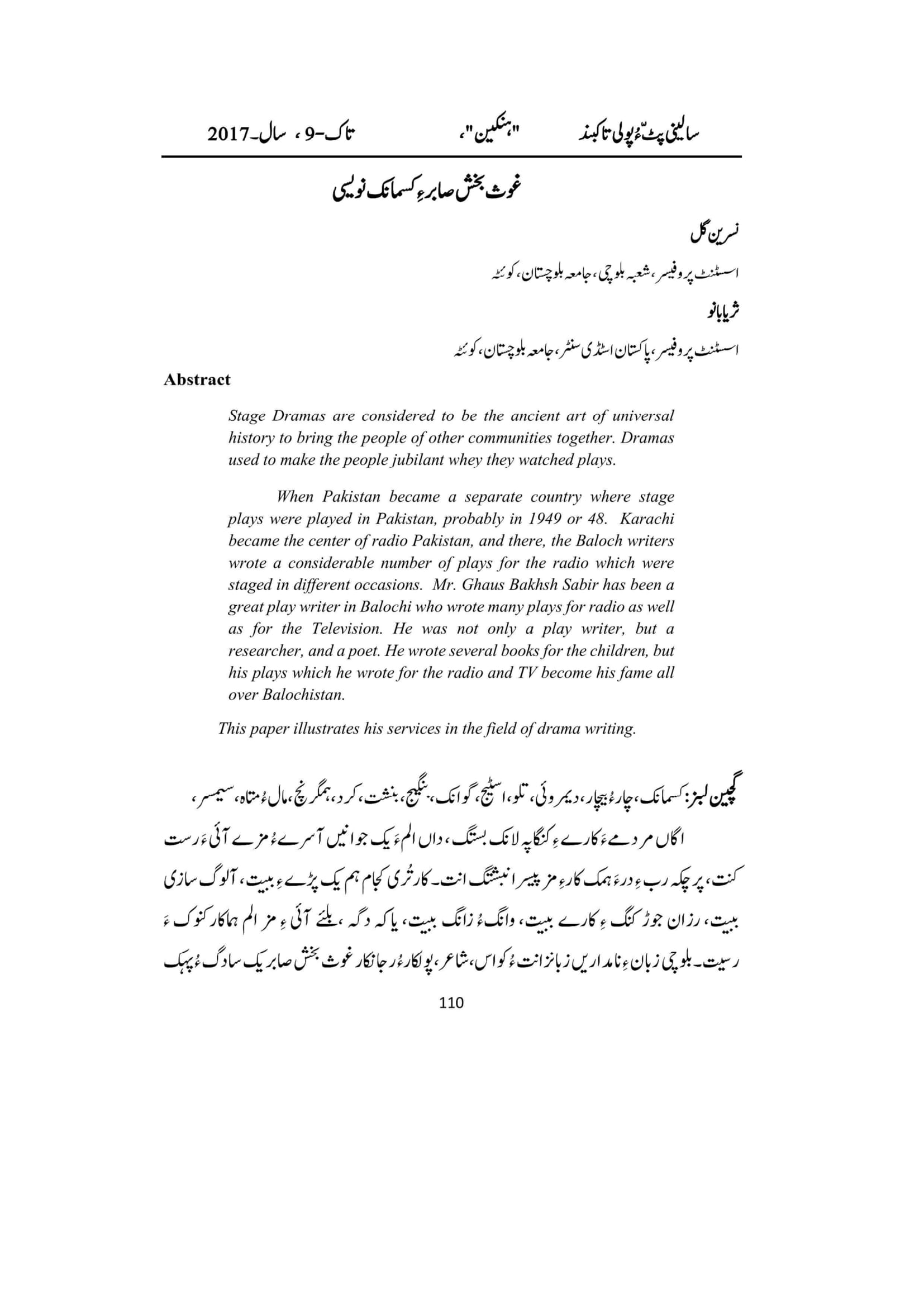 Downloads
How to Cite
Gul, N. ., & Bano, S. . (2017). غوث بخش صابرءِ کسمانک نویسی: The dramatic writing of Ghous Bakhsh sabir. Hanken, 9(1), 110–120. Retrieved from http://hanken.uob.edu.pk/journal/index.php/hanken/article/view/66