رجانک :پگرءِ پدیانک(چمشانکے بلوچی زبان ءِ پژدرءَ)
Translation: The stairs of Thought
Keywords:
Translation, text, word, novel, short story, creative language, style
Abstract
A language is way to see and understand the world. It is the vehicle of human ideas, thoughts and perspectives of world. Human being is essentially a social animal always interact with environment. This interaction with environment is a factor of time and space. When and where interacting determines what actually are meaning. The meaning depends on when, where and how. Moreover translation understood as an act of carrying the meaning of a text from one language to another.  
   This paper studies some important aspect of translation of world literature in to Balochi and vice versa and same time Pakistani and Persian literature into Balochi language.
References
بلوچ،ڈ۔ص(2012)۔آتار،کوئٹہ ،بلوچی اکیڈمی
صبا،ڈ۔ب(2014)۔سچکان،کوئٹہ، بلوچی اکیڈمی
داد،ا۔آ(2014)۔دوسستگیں استار(میاں استمانی آزمانکانی گچین)۔بلوچستان،ساچ پبلی کیشنز
بلوچ،ڈ۔ص(2009)۔بلوچی قصہی لبزانک،کوئٹہ ،بلوچی اکیڈمی
شاد،ش(2012)۔درآمد،کوئٹہ ،بلوچی اکیڈمی
بادینی،ی۔ج ءُبلوچ،ط۔ح(2015)۔میرگل خان نصیر۔کوئٹہ،بلوچی لبزانک دیوان
نصیر،گ۔خ(1983)شاہ لطیف گوشیت،کوئٹہ ،بلوچی اکیڈمی
خالق،ڈ۔ف(1999)گچین گنج،دومی چھاپ،کوئٹہ ،بلوچی اکیڈمی
خالق،ڈ۔ف(2010)جوہان،کوئٹہ ،بلوچی اکیڈمی
امام،ب،ا(2001)گیتانجلی،کوئٹہ ،بلوچی اکیڈمی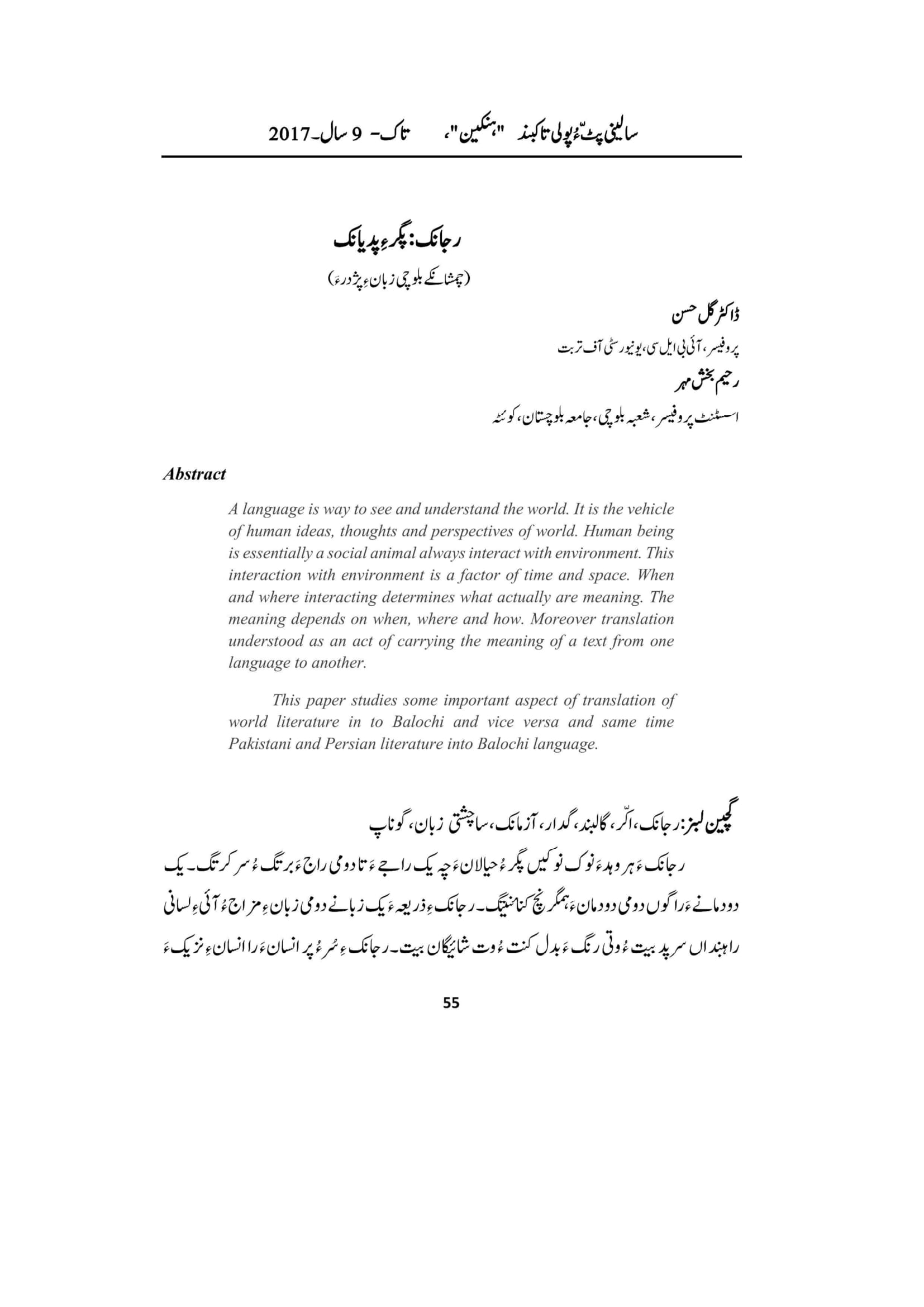 Downloads
How to Cite
Hassain, D. ., & Mehr, R. B. . (2017). رجانک :پگرءِ پدیانک(چمشانکے بلوچی زبان ءِ پژدرءَ): Translation: The stairs of Thought. Hanken, 9(1), 55–78. Retrieved from http://hanken.uob.edu.pk/journal/index.php/hanken/article/view/62