بلوچی ءُ براہوئی زبانانی جوڑشت ءُ ہم رَنگی
Similarities and the format of word-combination in Balochi and Brahui Language
Keywords:
Dravidi, similarities, derivatively, formula, act, nominalist, roots, contents, noun, noun condition, business, fictively.
Abstract
Balochi and Bráhui languages have lot of similar characteristics. Both the languages are spoken in Balochistan province parallel. According to some renowned researchers' Bráhui is from the Dravidian group of the language while Balochi is from the Aryans, but both the languages have similar characters.
This paper discusses the similarities between the Balochi and Bráhui languages.
References
صابر،ڈ۔ر۔(1994)۔بلوچی وبراہوئی زبانوں کے لسانی مطالعہ،غیرمطبوعہ،پی ایچ ڈی
مقالہ۔کوئٹہ۔بلوچستان اسٹڈی سینٹر۔جامعہ بلوچستان
عالم،س۔(2004)۔مطالعہ زبان۔اسلام آباد۔الاقرباء
بلوچ،م۔ب۔(1988)۔بلوچی گرائمر۔کوئٹہ۔بلوچی اکیڈمی
دشتیاری،ص۔(1995)۔بلوچی زبان ءِ آکبتII،کراچی۔سیدریفرنس لائبریری
احمدزئی،آ،ن۔(2009)۔براہوئی گرائمر۔کوئٹہ۔بلوچی اکیڈمی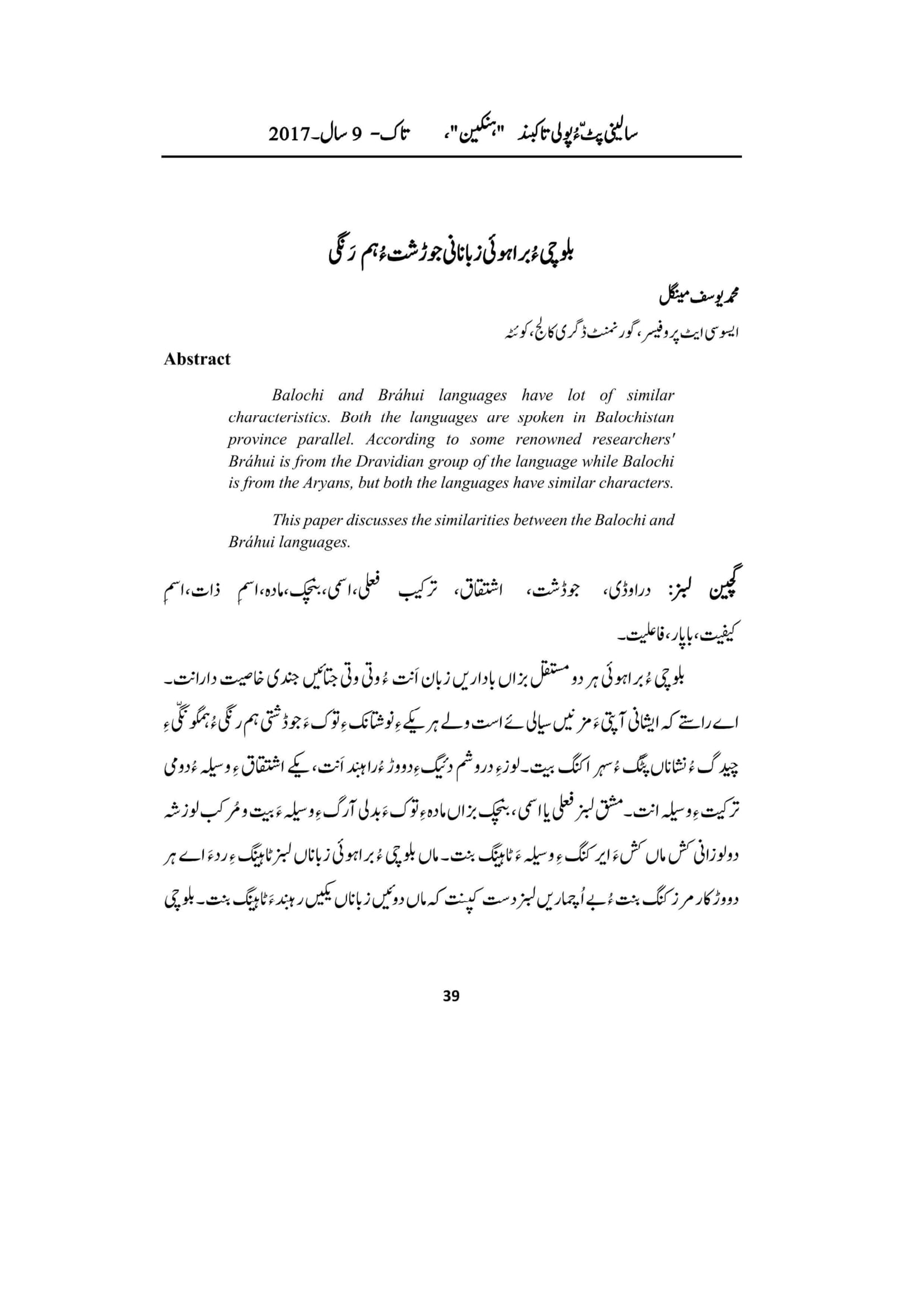 Downloads
How to Cite
Mangal, M. Y. . (2017). بلوچی ءُ براہوئی زبانانی جوڑشت ءُ ہم رَنگی: Similarities and the format of word-combination in Balochi and Brahui Language. Hanken, 9(1), 39–54. Retrieved from http://hanken.uob.edu.pk/journal/index.php/hanken/article/view/61