بلوچی ءُ دراوڑی زبانانی ہمگونگی
Similarities between Balochi and Dravidian Languages
Keywords:
Dravidians, Research studies, Comparative, enteral Asia Tamal, Malayalam,Kanada,Cool,Telugu,
Abstract
According to the historians Dravidians are from the Mediterranean Sea and then migrated from Mediterranean Sea to the Mesopotamia. They have been mixed with the Sumerians before 3800 B.C. Due to the clashes with the Acadians they have migrated to the Iran and then settled in the Sindh province of Pakistan.
This paper is a comparative study of the similarities between the Balochi Language and Dravidians Languages e.g. Malayalam, Telugu etc
References
Basham, A. l. 1985: The wonder that was india, 3rd ed. sidgwick Jakson, London.
Burrow, T, and M. B. Emeneau.1961: A Dravidian Etymological Dictionary, oxpord press. Enteries abbreviated as DED.
Goets. Philip, w. and others(eds)1985:''Dravidian Language''in the new Encyclopaedia Britannica vol.4, 15th ed.
Holdicd, T.H, 1910: The Gates of india.....Being on Historical Narrative, Macmillan London(Reprinted in 19977 Gosha-e-Adab, quetta)
ندوی،رشید اختر1998:ارض پاکستان کی تاریخ(جلداوّل،دوم)، سنگ میل پبلی کیشنزلاہور
Rapson, E.J(ed.)1987: The cambridge History of india,vol. 1, new Delhi, s. Chand co.ltd.
South worth,F., in witzel, M,1999: substrate languages in old-indo Aruns EJVS, 5.1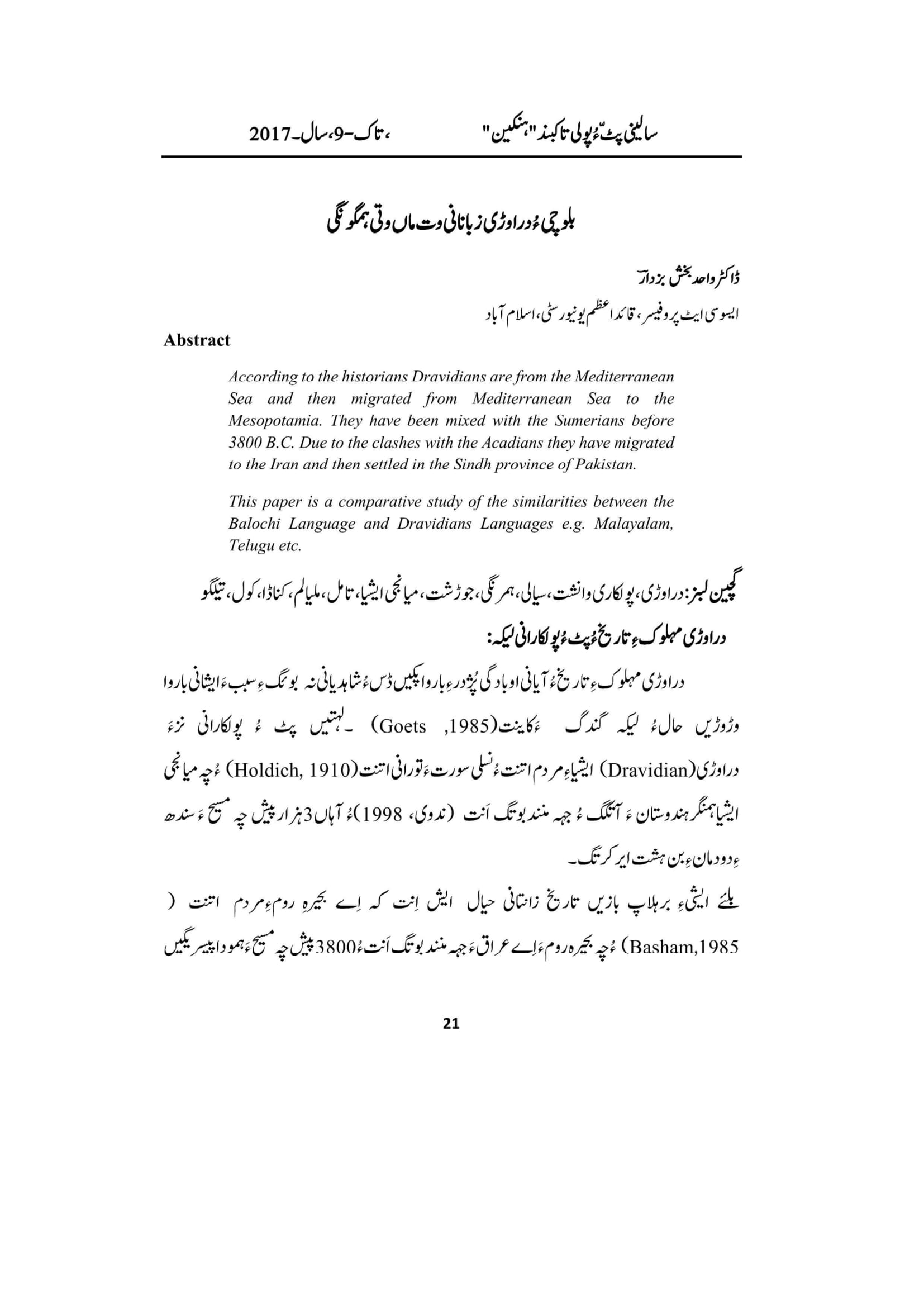 Downloads
How to Cite
Buzadar, D. W. B. (2017). بلوچی ءُ دراوڑی زبانانی ہمگونگی: Similarities between Balochi and Dravidian Languages. Hanken, 9(1), 21–38. Retrieved from http://hanken.uob.edu.pk/journal/index.php/hanken/article/view/60