MORPHOLOGICAL CHANGE IN BALOCHI
MORPHOLOGICAL CHANGE IN BALOCHI
Keywords:
Balochi language, morphology, morphological change
Abstract
The Balochi is considered to be one of the archaic
languages in the Iranian region. It has sustained its
morphological structure, but because of passage of time and
contact with Iranian and south Asian languages, a little bit
changed its morphological structure.
In this paper, the change in morphological structure in
Balochi will be focused in detail.
References
Booij, G. (2005). The Grammar of Words: An Introduction to Linguistic
Morphology. Oxford: Oxford University Press.
Baloch, H. A. (2018). Pahlavi-Balochi Dictionary. Quetta: Balochi
Academy.(Unpublished)
Dashti, J. (2015). Balochi Labzbalad. Quetta: Balochi Academy, Adalat
Road, Quetta, Balochistan.
Elfenbein, J. (2006). The Baluchi Language: A Dialectology with Texts.
NY: Routledge Printing Press.
Elfenbein, J. H. (1997). Balochi Phonology. In A. S. Kaye, Phonologies of
Asia and Africa, Including Caucasus Vol.1 (pp. 761-775). Winnona Lake,
Indiana: Eisenbrauns, USA.
Hashmi, S. Z. (2000). Sayad Ganj. Karachi: Sayad Hashmi Reference
Library, Mallok Hotel, Malir, Karachi
Jahani, C. (2016, April-May 28-5 May). the Balochi Language Project.
Retrieved from Institutionen för lingvistik och filologi:
http://www.lingfil.uu.se/forskning/the-balochi-language-project/
Leiber, R. (2009). Introducing Morphology. Cambridge: Cambridge
University Press, the Edinburgh Building, Cambridge, UK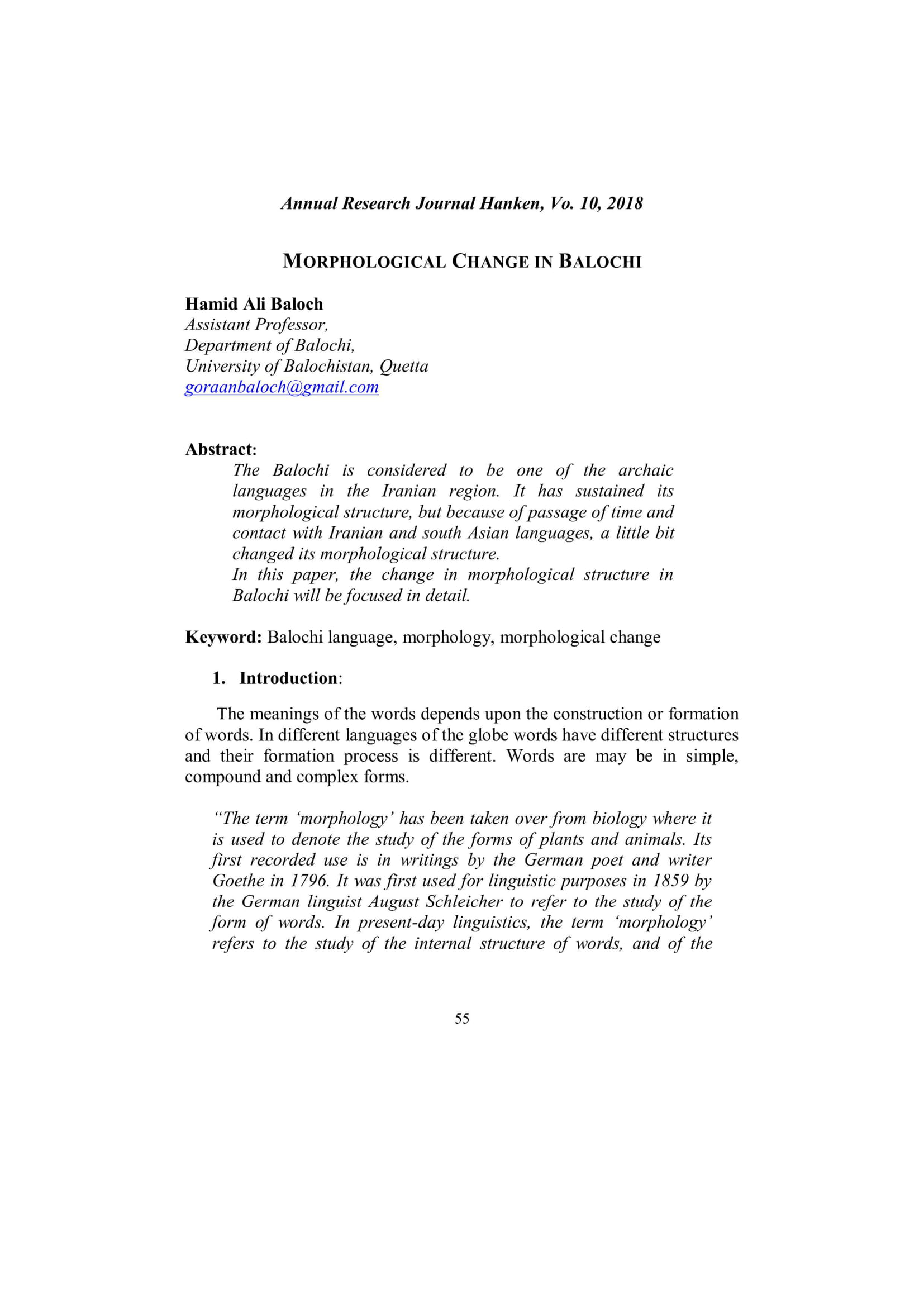 Downloads
How to Cite
Baloch, H. A. . (2018). MORPHOLOGICAL CHANGE IN BALOCHI: MORPHOLOGICAL CHANGE IN BALOCHI. Hanken, 10(1), 55–65. Retrieved from http://hanken.uob.edu.pk/journal/index.php/hanken/article/view/56