WOMEN EMPOWERMENT THROUGH PARTICIPATION IN SMALL RUMINANTS REARING OF PASHTUN AND BALOCH TRIBAL CULTURE OF BALOCHISTAN-PAKISTAN
WOMEN EMPOWERMENT THROUGH PARTICIPATION IN SMALL RUMINANTS REARING OF PASHTUN AND BALOCH TRIBAL CULTURE OF BALOCHISTAN-PAKISTAN
Keywords:
empowerment, Balochistan, Hypotheses
Abstract
The objective of the study is to investigate the women empowerment
through small ruminants' rearing activities pertaining to Pashtun and
Baloch tribal culture of Balochistan. Random sampling technique was
used to collect the data through five-point Likert scale through selfconstructed questionnaire. Hypotheses were tested using correlation and
regression analysis. Results indicated that women participation may not be
able to empowered them; causing difficulties to adjust themselves in a stern
Pashtun and Baloch culture. The main stay of the common people in
Balochistan is on the rearing of livestock especially small ruminants'.
Every family member takes an active part in small ruminants' rearing
Women Empowerment through Participation in Small Ruminants rearing
of Pashtun and Baloch Tribal Culture of Balochistan-Pakistan
activities. Women role in livestock rearing activities is significant. They
work dawn to dusk and perform every activity within the boundaries of
house. However, their participation regarding the livestock husbandry
does not pay off which they deserve. In Pashtun and Baloch communities'
women have to stay within the boundaries of home, hence, culturally and
traditionally they are not permitted to go outside without the permission of
male members (Nunnally, & Bernstein, 1994). As majority of inhabitants
are engaged with livestock rearing activities, hence, their main focus is
livestock rearing especially small ruminants' production. The results
indicated that women empowerment relating to socio-economic, political,
cultural and psychological are not substantive with the hypotheses.
Factors such as Extensive illiteracy, lack of basic education, training and
experience remain serious obstacles in women's empowerment in Pashtun
areas of Balochistan.
References
Afzal M. (2008). Investment Opportunities in livestock sector in Pakistan
Director General "The Daily News" Rawalpindi / Islamabad, Lahore and
Karachi on September 18, 2006.
Ashwini, G., (2002). Women in Agriculture. BAIF; Development Research
foundation
Cronbach, L. J. (1951). Coefficient Alpha and the internal structure of tests
.Psychometrika, 16(3), 297-333.
Deere, C.D. (2005). The Feminization of Agriculture? Economic
Restructuring in Rural Latin America. United National Research Institute
for Social Development, Occasional Paper 1.
Fornell, C., & Larcker, D. F. (1981). Evaluating structural equation models
with unobservable variables and measurement error. Journal of Marketing
Research, 18(1), 39-50.
Harrington, D.H., (1992). Measurement Issues Relating to Policy Analysis.
Costs and Returns for Agricultural Commodities. Oxford Press: West
View,
Humera Amin, Tanvir Ali, Munir Ahmad and Muhammad
IqbalZafar
. (
. Gender and Development: Roles of Rural Women in
Livestock Production in Pakistan--Department of Agriculture Extension,
University of Agriculture, Faisalabad
Department of Rural Sociology,
University of Agriculture, Faisalabad. Pak. J. Agri. Sci., Vol. 47(1), 32-36;
ISSN (Print) 0552-9034, ISSN (Online) 2076-0906
Muhammad Shafiq et al.
Johnson, K. N. (1995, December). Ethics and youth in expositions and
competitions. Paper presented at the LCI National Youth Livestock
Program Ethics Symposium
McAINSH, C.V., KUSINA, J. MADSEN, J. and NYONI, O. (2004). Status
of backyard chicken reared by women in Chitral, Pakistan. Pakistan
Veterinary Journal. 24: 82-86
Nadeem Akmal and Sajida Taj (2004).Women and Livestock Management
in Sindh (Pakistan agricult ure research council PARC)
Nazli, H. and S. Hamid. (2007). Concerns of Food Security, Role of Gender
and Intra-household Dynamics in Pakistan.
Niamir-Fuller, (1994).Women Livestock Managers in the Third World:
Focus on Technical Issues Related to Gender Roles in Livestock
Production, Staff Working Paper 18, Rome: IFAD, December.
Nunnally, J.C., & Bernstein, I. H. (1994).Psychometric theory (3rd Ed.). New
York, NY: McGraw-Hill Okapi, C. and J. Mims. (1998). 'Gender and
Smallholder Diary Production in Tanzania.' Report to the Livestock
Production Program of the Department for International Development
(DFID): Appendix 1 and 2 pp. 37-3 8.
Redid, P. (2003). Women in Agriculture: A Sociological Study in Southern
India.
Shafiq .M. (2008). Analysis of the Role of Women in Livestock
Production in Balochistan, Pakistan JOURNAL OF AGRICULTURE &
SOCIAL SCIENCES ISSN Print: 1813–2235; ISSN Online: 1814–960X
–322/ZIP/2008/04–1–1 8–22 e-mail: forshaf@hotmail.com
Women Empowerment through Participation in Small Ruminants rearing
of Pashtun and Baloch Tribal Culture of Balochistan-Pakistan
Shapiro, B.I., J. Haider, G.W. Alemu and M. Abebe. (1998). Crossbred
cows and human nutrition and health in the highlands Eco region: Evidence
from Ethiopia. ILRI (International Livestock Research Institute), Addis
Ababa, Ethiopia. pp.22 (Mimeo).
Thornton P.K., Kruska R.L., Henninger N., Kristjanson P.M., Reid R.S.,
Atieno F., Odero A.N. and Ndegwa T. (2002). Mapping poverty and
livestock in the developing world. ILRI (Internatio nal Livestock Research
Institute), Nairobi, Kenya. 124 pp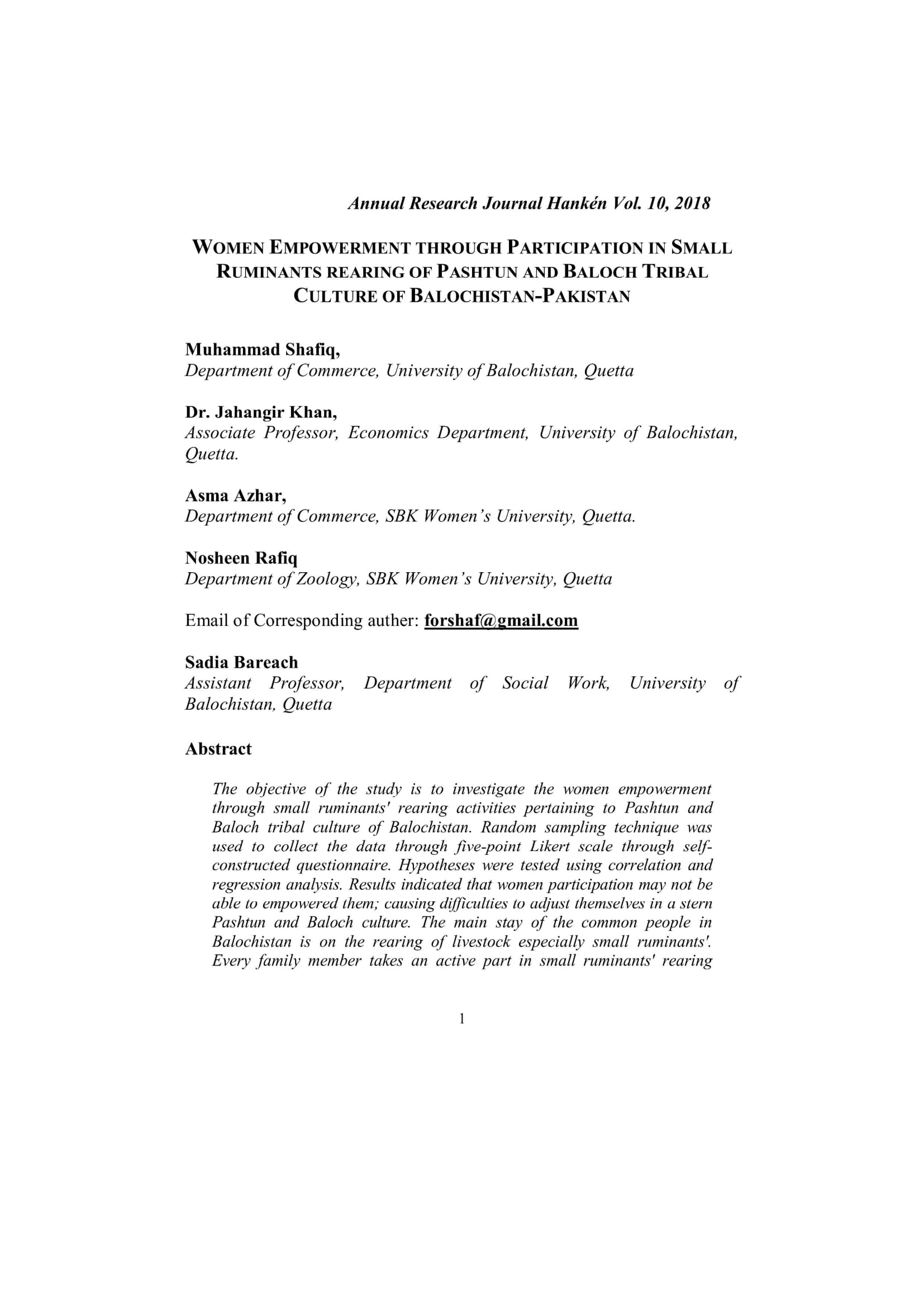 Downloads
How to Cite
Shafiq, M. ., Khan, D. J. ., Azhar, A. ., Rafiq, N. ., & Bareach, S. . (2018). WOMEN EMPOWERMENT THROUGH PARTICIPATION IN SMALL RUMINANTS REARING OF PASHTUN AND BALOCH TRIBAL CULTURE OF BALOCHISTAN-PAKISTAN: WOMEN EMPOWERMENT THROUGH PARTICIPATION IN SMALL RUMINANTS REARING OF PASHTUN AND BALOCH TRIBAL CULTURE OF BALOCHISTAN-PAKISTAN. Hanken, 10(1), 1–12. Retrieved from http://hanken.uob.edu.pk/journal/index.php/hanken/article/view/50