بلوچی ءَ داستان گُشگ ءِ ربیّت پُشدر، جیڑہ ءُ گیشوار
The Culture of Balochi Dastan: Backgroung,Problems and Solution
Keywords:
Culture.Dastan.Balochi.History.Background.Problem.
Abstract
Folktales, one of the prominent genres of folklore, is found in all folk literatures of the world languages, in form of oral prose and poetry.
However, this genre comprises only in form of oral poetry in Balochi folklore, with epics, love, didactic religious and ethical themes, alike.
Along with most of folklore genres, a major part of Balochi folktales have been lost by the ruthless hands of time and hard to be found now, as every tale inherited us and we are familiar with today, was in form of oral poetry. There are number of balochi folktales written and unwritten besides well-known stories of Hani Shay Mureed, Shahdad and Mahnaz, Baloch Gorgej, Hammal Kalmati, Ezzat Mehrok and more. This paper studies and analyzes the importance of folktales in the domain of balochi literature at large.
References
اشرفی،وہاب،پروفیسر(2006)تاریخ ادبیات عالم(جلدپنجم)یورپ اکیڈمی اسلام آباد
بلوچ،ڈاکٹر،صبور(2012)ھوار،تاکبندھنکین تاک چارمی،شعبہ بلوچی جامعہ بلوچستان کوئٹہ
جمال،انور،پروفیسر(2015)ادبی اصطلاحات،نیشنل بک فاؤنڈیشن اسلام آباد
حکیم،طاہر(2020)ہوار،تاکبندتران بلیدہ،شونکار،الطاف بلوچ
صابر،غوث بخش(1997)بلوچی زبان وادب کی مختصر تاریخ،مقتدرہ قومی زبان اسلام آباد
صابر،غوث بخش(1999)بلوچی زبان وادب(ایک جائزہ)غوث بخش صابر،اکادمی ادبیات اسلام آباد
صابر،غوث بخش(2011)بلوچی لوک داستانیں،بلوچی اکیڈمی کوئٹہ
گمی،خان،سلیم(1961)بلوچی ادب،اُردو اکادمی بہاولپور
مری ،شاہ محمد،ڈاکٹر(2014)بلوچی زبان وادب،سیلزاینڈسروسزکوئٹہ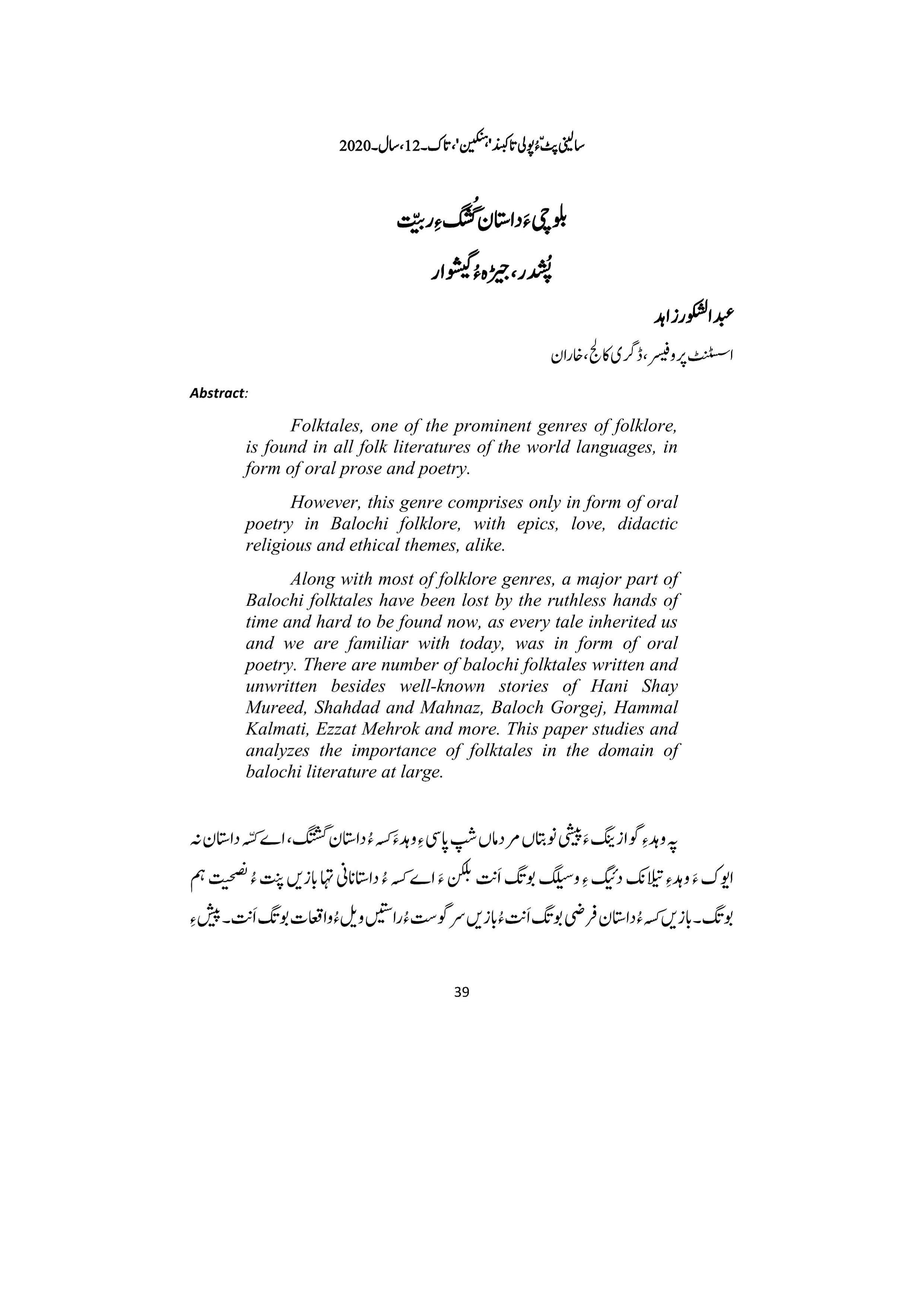 Downloads
How to Cite
Zahid, A. S. . (2020). بلوچی ءَ داستان گُشگ ءِ ربیّت پُشدر، جیڑہ ءُ گیشوار: The Culture of Balochi Dastan: Backgroung,Problems and Solution. Hanken, 12(1), 39–51. Retrieved from http://hanken.uob.edu.pk/journal/index.php/hanken/article/view/4