A CRITICAL ANALYSIS OF SOCIETAL AND GOVERNMENTAL BEHAVIOR TOWARDS WOMEN EMPOWERMENT IN BALOCHISTAN
Keywords:
Governmental Behavior, Societal Behavior, Women Empowerment.
Abstract
It is a universal reality that the role of women is obligatory for
the development of any society. Unfortunately, in Baluchistan
women are fronting varied problems that create interruptions in
their way of progress. The main goal behind this study is to
analyze the societal as well as governmental behavior towards
women empowerment. The method of present study is
descriptive. The conclusion of this study was drawn from the
responses of 100 respondents. It concluded that because of
governmental policies and some societal customs and attitudes,
women are facing serious problems in society, as the result
women are confronting complications in professional and
domestic life. On the basis of findings of this study the following
recommendations are given (a) Implementation of laws ought to
be rigorously monitored. (b) Patriarchal behavior ought to be
review about women empowerment and equality in all circles of
life. (c) Education ought to be used as a tool for empowering
women
References
Akhter, N. (2011). Push and pull factors behind domestic violence practices in
Bahawalpur, Pakistan. Journal of Educational Research, 14 (1), 154-163
Arjun Y Pangannavar (2012): 'Self-help Groups (SHGs) and Women
Empowerment in India' New Century Publications New Delhi
Ayesha, M. (2013). Status of women in Pakistan, Retrieved from http//www.
humairiweb.com.
Baloch, Emaan "Women empowerment in Pakistan. The Baluchistan point.
http://thebalochistanpoint.com/women-empowerment-in-pakistan/.
Chaudhary, I. S., Nosheen, F., & Lodhi, M. I. (2012). Women Empowerment in
Pakistan with special reference to Islamic Viewpoint: An Empirical
Study. Pakistan Journal of Social Sciences, 32(1), 171-183.
Kabeer, N. (2001). Reflections on the Measurement of Women's Empowerment, in
Discussing Women's Empowerment-Theory and Practice, Sida Studies,
, Novum Grafiska, AB Stockholm.
Martin, P., & Barnard, A. (2013). The experience of women in male-dominated
occupations: A constructivist grounded theory inquiry. SA Journal of
Industrial Psychology. http://dx.doi.org/10.4102/sajip.v39i2.1099.
Mohan, G. and K. Stokke. (2000). Participatory Development and Empowerment:
The Dangers of Localism ', Third World Quarterly, 21(2): 247–68.
Naqvi, R. H., & Ibrar, M. (2015). Women's Rights and Family Decisions: A case
Study of District Multan, Punjab. Pakistan Journal of Women's Studies:
Alam-e-Niswan Vol. 22, No. 1, 2015, pp. 79-89, ISSN: 1024-1256
Rajeshwari M. Shettar. (2015). A Study on Issues and Challenges of Women
Empowerment in India. IOSR Journal of Business and Management
(IOSR-JBM) e-ISSN: 2278-487X, p-ISSN: 2319-7668. Volume 17,
Issue 4.Ver. I (Apr. 2015), PP 13-19 www.iosrjournals.org DOI:
9790/487X-17411319 www.iosrjournals.org.
Rashid, M.A. (2013). Status of women in Islam. Retrieved from. http://www.irfi.org.
Rukshanda, N. (2005). Problems of women: A global view. Journal of Gender
Studies, 15(3), 13-23.
Weiss, A. M., Hussain, A., & Sathar, Z. A. (2001). Social Development, The
Empowerment of Women and the Expansion of Civil Society:
Alternative Ways out of the Debt and Poverty Trap (with comments).
The Pakistan Development Review, 401-432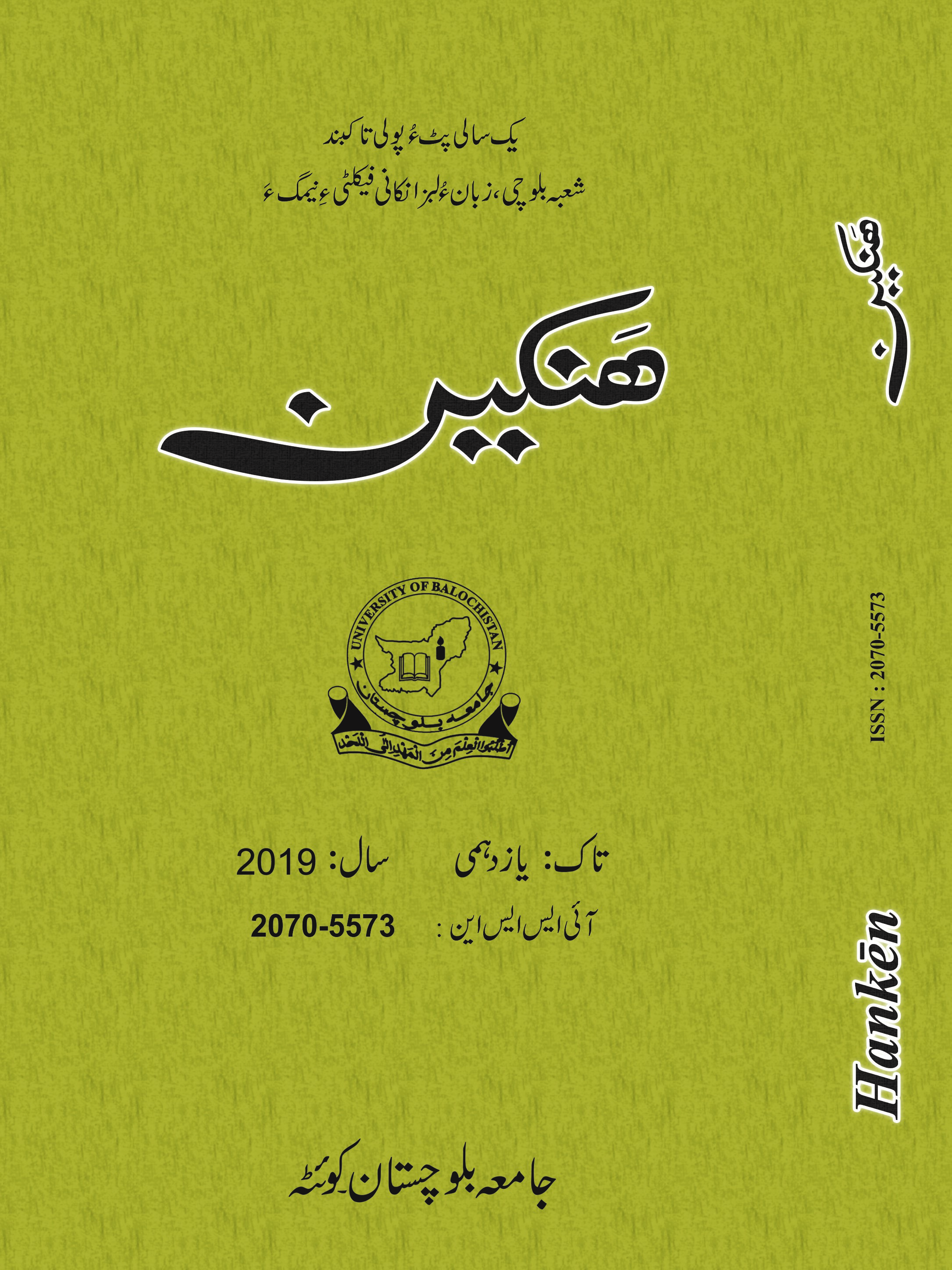 Downloads
How to Cite
Baloch, S. K., & Rubeena Batool. (2019). A CRITICAL ANALYSIS OF SOCIETAL AND GOVERNMENTAL BEHAVIOR TOWARDS WOMEN EMPOWERMENT IN BALOCHISTAN. Hanken, 11(1), 50–60. Retrieved from http://hanken.uob.edu.pk/journal/index.php/hanken/article/view/36