THE BALOCH RULE IN SIBI
Keywords:
Sibi, Capital city, Baloch, Mir Chakar, Arghoon, Kandahar, Jam Nanda, Kachhi
Abstract
The city of Sibi was very important in history of Balochistan, it
was commercial and cultured city of the Baloch, this city continued
as the supreme eminent capital of Mir Chakar Rind, who has kept
up his grand courtyard along with barbarous and the deluxe
tradition manifestation of feudal excitement. Rind capital appeared
as the main city of Balochistan similarly the center of cultures and
tradition. Ancient tradition speaks that Sibi has honorable status.
Few historians, deliberately ignored this important rule of the
Baloch in Sibi, he has been ignored in his book.
This article is focusing on the Baloch role in Sibi; it is an
important part of Baloch history. This article is an effort to prove
Baloch rule, in 15th century in Sibi, and also that they were
independent ruler of Balochistan, but few historians have rejected
these views and references about a Baloch rule in Sibi. This article
reviews the research of the Baloch government on Sibi. Through the
article, efforts have been made to clear up any misunderstandings;
Sibi was ruled by a central Baloch government.
According to historians and writers support, references and
discussions, I tried to narrate it in detail. This article is the backbone
of the Baloch rule in Sibi. The aim of this research article is to clear
the confusion about Mir Chakar Rind rule in Sib through research
References
Ahmad, Syed Iqbal (1992) Balochistan its strategic importance Royal book
company Karachi.
Baloch, M.S.K. (1965) The Great Baloch ,Balochi Academy, Quetta
Balochistan Conflicts and players Pak Institute for peace studies (PIPS)(2009)
Islam Abad.
Bukhari, Mir Mohammad Mahsum (1600) Edited By Dr, Nabi Bakhsh (1959)
HydarabvadCompilted by Khan Baloch Sindhi Adbi Board.
Chodari, Anwar (March 2001) Pakistan SobonKaTarikhi Khaka (Urdu Book)
South Asia Partnership Pakistan Lahore.
Farishta, Abal Qasim (1974) Urdu Translation by Khowaja Abdul Hai M.A
(Vol-Two) Sheikh Ghulam Ali and Sons Lahore.
Gankovsky. Yu.V.(1973) The people of Pakistan people publishing house
Lahore.
Harrison, Selig (1981) The Afghanistan's Shadow Baloch Nationalism and
Soviet temptations Publisher by Carnegie Endowment for international Peace.
Hassan, Brigadier (R) M. Osman (1987) Balochistan Azlah or Tarikh
(Balochistan Districts and History) Gosha-e-Adab 2
nd
Edition Quetta.
Khan, M. Tahir (1988) Siyasiyat Balochistan (Urdu Book) M.M Traders Quetta
Luni, Abdul Aziz (1992) Afghans of the frontier Passes, new Quetta Book Stall
Quetta. Mehmood, Sayad Qasim (N.D), Islami Encyclopedia, al-Feisal
Nashran-o-tajran kutub Lahore vol-Ist.
Naseem, Ulf at (2008) Chand Tarikhi Goshe (A few historical texts) Balochi
Academy Quetta.
Pakistan ka Saqafti encyclopedia (Soubah Balochistan) al-Feisal Nashran-otajran kutub vol-3 Lahore.
Qadir, Dr M. Ihsan (2016) Balochistan Victim of Greed or Grievances Bahria
University Karachi
Qisrani, Prof. M. Ashraf Shaheen (Nov 1994) Balochistan Tarikh or Mazhab
Balochistan History and Religion) AdaraTadris Quetta.
Qisrani, Ahmad Khan (2005) Baloch Quom or Tarikhi Haqqahaq (Baloch
People and Historical Facts) Pilate Educational Products Lahore.
Roman, Anwar (2005) Balochi Language and Literature Institute of writing and
research Baluchistan Pakistan.
Roman, Prof. Anwar (1964) Aaina Baloch (Mirror of Baloch) Qesar Al Adab G
ago Wala Multan
Shah, Dr. Mehmood Ali (1994) Sardar Jirga and Local Government Systems in
Balochistan 2
nd
Edition Edara-e-Tadrees publishers Lahore.
Sindh Gazetteers (1991) Translated by Prof Anwar Roman MatbahatNisa
Quetta.
Sohdarvi, Kamran Azam (2011) Tarikh Balochistan Moshtaq Book Corner
Lahore.
Strange, G, (1986) Geographya Khalafat Mashrqi, Moqtadara Qomi Zoban
Islamabad.
Tahir, Prof. Dr.Semi Naghmana (2006) Balochistan Main Ablagh Aama Ka
Aghaz-o-Arteqah Maqtadar Qomi Zoban Islamabad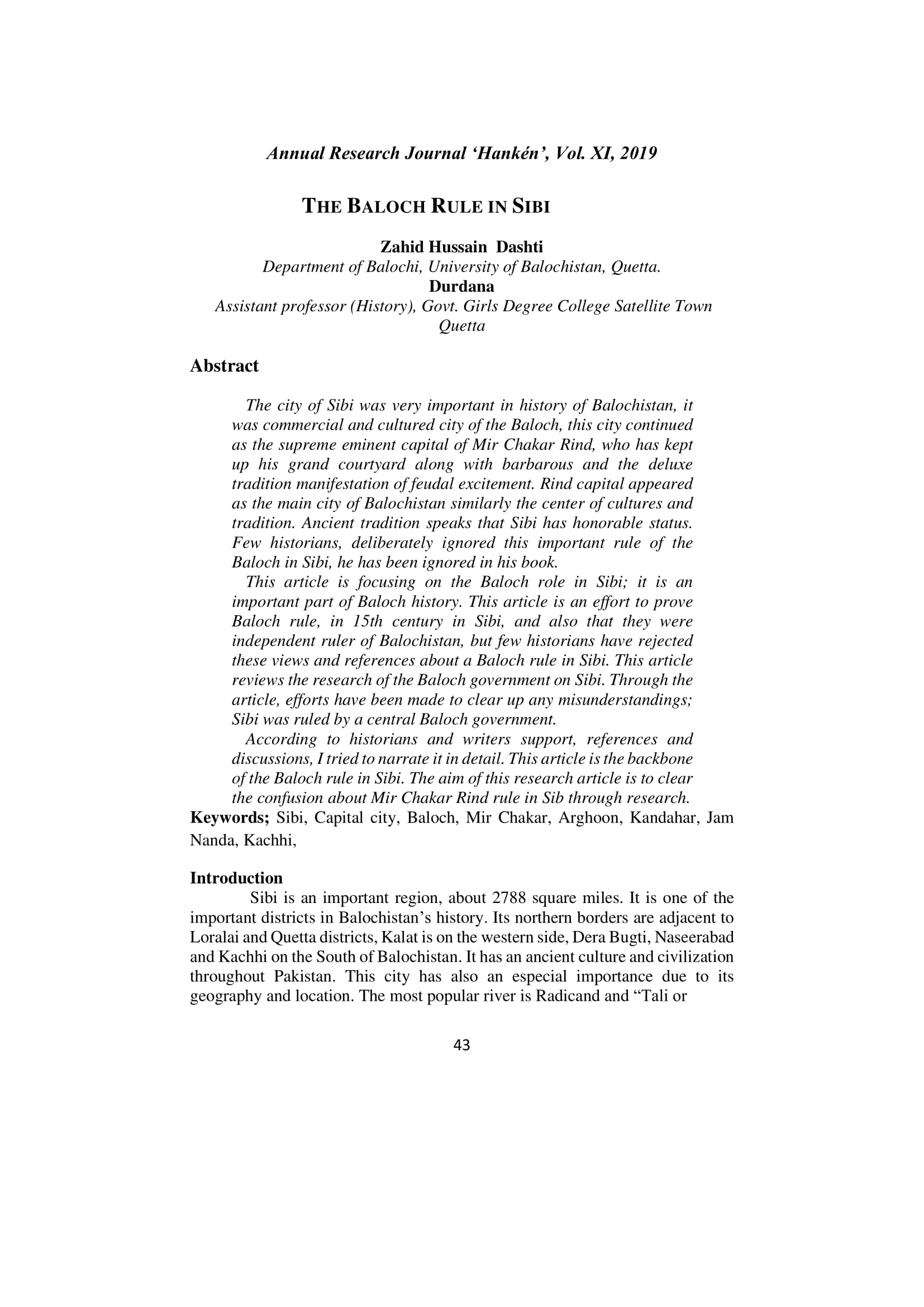 Downloads
How to Cite
Dashti, Z. H. . ., & Durdana. (2019). THE BALOCH RULE IN SIBI. Hanken, 11(1), 43–49. Retrieved from http://hanken.uob.edu.pk/journal/index.php/hanken/article/view/34