کسمانک ءُ بلوچی کسمانک ءِ بنگیج ءُ دیمرئی
Drama: Evolution and development of Balochi Drama
Keywords:
tradition, drama, comparative
Abstract
 The tradition of the Balochi drama exists long before in the traditional games. Folk stories and poetry and other aspects of everyday life but the concept of new drama is earlier. The written history of the Balochi drama starts from 1950s.
 The aim of this paper is to focus the origin, derivative sources and a comparative study among the other languages like Urdu and English. The progress and evolution of Balochi drama in the Radio and TV, and the stage drama will also be discussed. Financial support of the Government for the Promotion of Balochi drama and its supervision will also be mentioned.
References
۔ اے بی اشرف ، ڈاکٹر ، اردو ڈرامہ اور آغا حشر،1992 بیکن بکس گلگشت ، ملتان ،تاکدیم 13
۔ پداھمیش تاکدیم 13
۔پداھمیش تاکدیم 14
۔ پداھمیش تاکدیم 19
۔ظہیر انور، اردو ڈرامے کی تدریس ، مساءل اور طریقہ کار ، ماہنامہ شب خون ، پر بھارت آ فیسٹ اللہ آ باد مءی 2005 تاکدیم 39
۔ پداھمیش تاکدیم 21
۔ اے بی اشرف ، ڈاکٹر ، اردو ڈرامہ اور آغا حشر،1992 بیکن بکس گلگشت ، ملتان ،تاکدیم 20
۔ پداھمیش تاکدیم 21
۔ انجم ، جمیل احمد پروفیسر ، تاریخ اردو زبان و ادب ،علمی کتاب خانہ ، لاھور ،تاکدیم 352
۔شاہوانی عبدالقادر ، ایثر ، بلوچی زبان ءُ ادب ، 1998 ،بلوچی اکیڈمی کوئٹہ ، تاکدیم 254
۔ پداھمیش تاکدیم 246
۔ پداھمیش تاکدیم 255
۔ پداھمیش تاکدیم 254
۔ ہاشمی ظہور شاہ سید ، بلوچی زبان و ادب کی تاریخ ،1986 ،سید ہاشمی اکیڈمی ،کراچی تاکدیم 244
۔صبا دشتیاری ،انگریں واھگ ،199 ، سید ہاشمی ریفرنس کتاب جاہ کراچی ،تاکدیم 47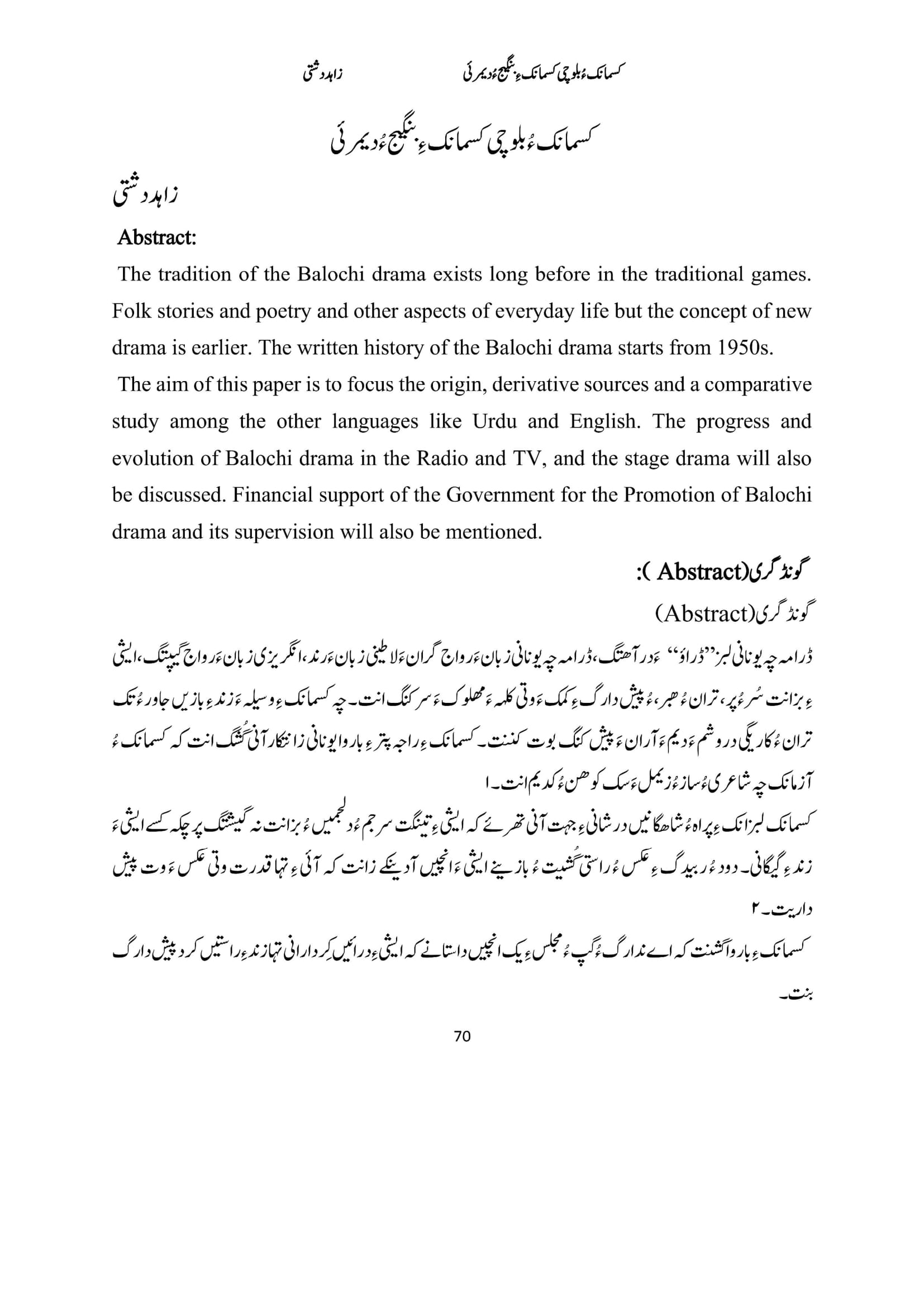 Downloads
How to Cite
Dashti, Z. . (2009). کسمانک ءُ بلوچی کسمانک ءِ بنگیج ءُ دیمرئی: Drama: Evolution and development of Balochi Drama. Hanken, 1(01), 71–82. Retrieved from http://hanken.uob.edu.pk/journal/index.php/hanken/article/view/226