بلوچستان ءِ تاریخ نوکیں سنگ ءِ دورتاں رود ءِ دور
History of Balochistan: Modern stone age to early iron age
Keywords:
civilization, Mehragarh, archaeological
Abstract
 The human civilization is no t new but consist of a long history from the beginning of the first day. Development s and declination s come and go by the sphere of time but leave some effect in the human history.
This paper will focus the ancient civilization of Mehragarh and the archaeological sites of Balochistan such as, Killi Gul Muhammad, Anjeera, Nal Shahi, Mustang and Bostan. The proto - historic, pre historic, chalcolithic, Mesolithic and neo lithic period of Balochistan will be discussed.
References
Wall Bank , T. Walter, civilization , Scott, foreman and company ,1961
Panin , Giorgio. The children History of civilization .Hamlyn ,1986
۔ یحییٰ امجد ۔ تاریخ پاکستان ( جلد اول قدیم در ) علامہ اقبال ٹاون لاہور 517 جہان زیب بلاک 1988
Mughal , M . Rafique. Further evidence of the early Haven culture in the great Indus valley, 1970-90(Survey) report.
Gwinn, Robert. Pre historic people and culture. The new encyclopedia Britannica Vol 26 Chicago U. S.A 1993.
Butzer, Karlw.Pre-historic people. The world book encyclopedia vol15 Chicago, Scott freezer company,1989.
Dickinson, alice .Pre-historic man. The new book of knowledge vol15 new yard, Grolier 1970.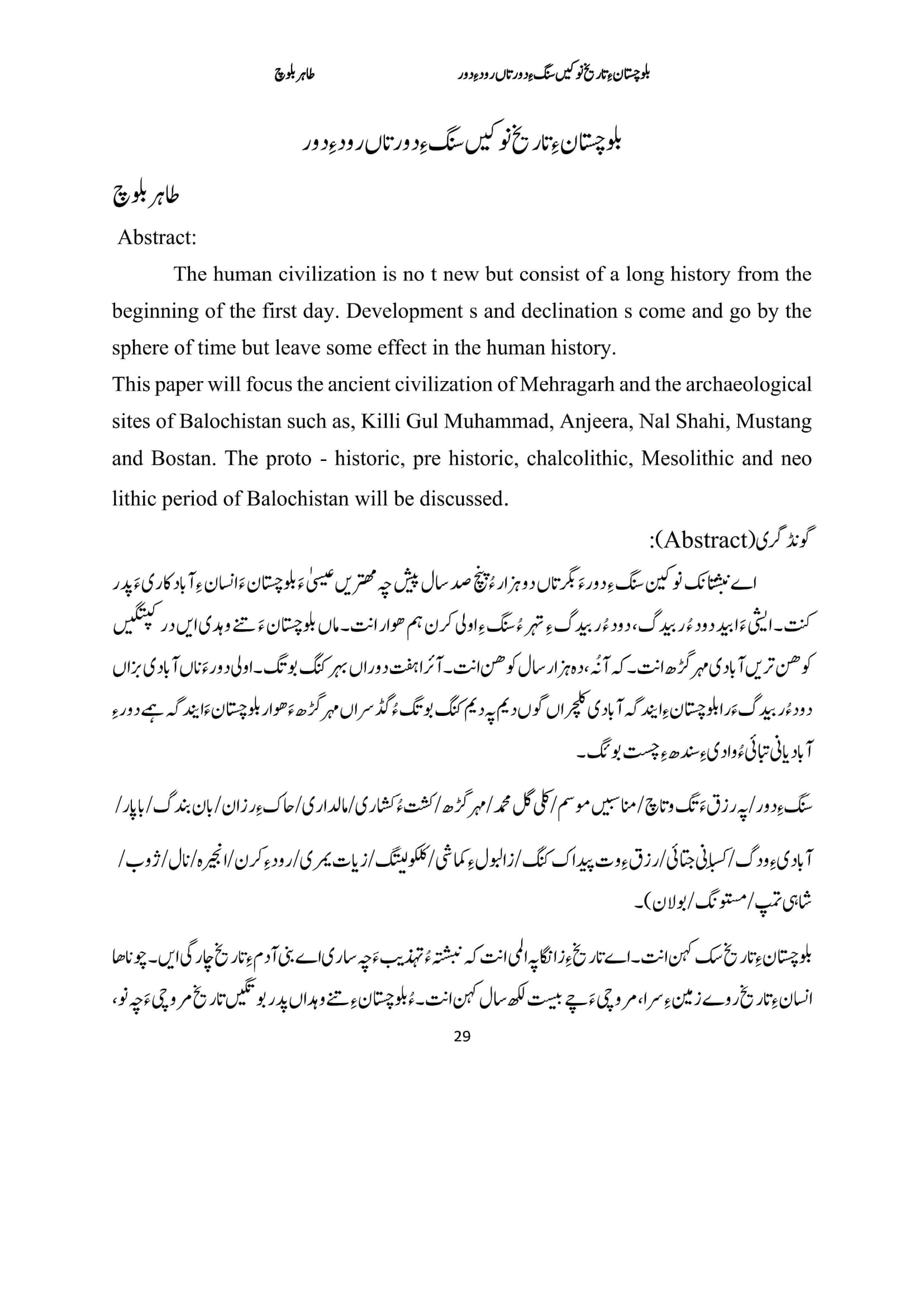 Downloads
How to Cite
Baloch, T. (2009). بلوچستان ءِ تاریخ نوکیں سنگ ءِ دورتاں رود ءِ دور: History of Balochistan: Modern stone age to early iron age. Hanken, 1(01), 29–35. Retrieved from http://hanken.uob.edu.pk/journal/index.php/hanken/article/view/223