الفباء ِ مسئلہ
Orthography and Alphabetics issue in Balochi language
Keywords:
Alphabets, Orthography, standardization, phonetic
Abstract
Alphabets and Orthography of a language play a vital role for the standardization and progress of a language. The Balochi language has been confronting this awaiting issue since its birth. Efforts have been carried out to standardize the Balochi Orthographic System, but a problem always brazened out that whether the orthography to be phonetic way or it is formulated to the needs of time as the other languages have been adopted.
This paper exemplifies the history of alphabets, Orthographic system, phonetic system of the Balochi language and its unsolved problems. Suggestions and opinions will be provided towards a standardized orthographic system. 
References
۔تاج محمد بریسی،بلوچی ومسئلہ کتابت،تاکدیم17
۔ ہمیش،تاکدیم 72
۔ ہمیش،تاکدیم28
۔ ہمیش،تاکدیم29
۔اکبر بارکزئی،روچ ءَ کئے کشت کنت،تاکدیم62
Karena, jahani, Standardization and Orthography in the Balochi Language, p.133
۔ خانلری،پرویز ناتل،زبان شناسی ءُ زبان فارسی،تاکدیم 28
۔تاج محمد بریسی،بلوچی ءُ مسئلہ کتابت تاکدیم 53
۔ ہمیش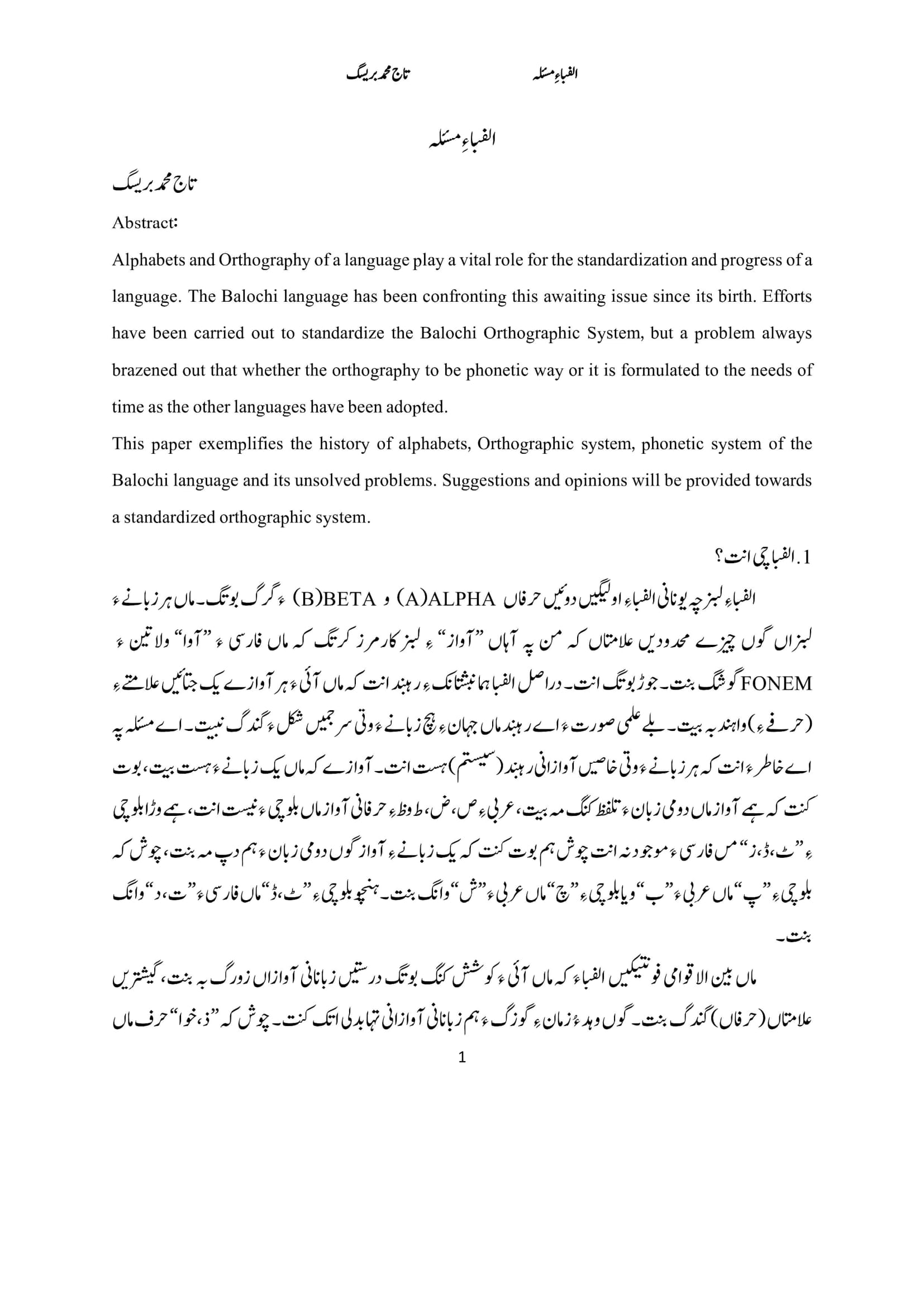 Downloads
How to Cite
Breseeg, T. M. . (2010). الفباء ِ مسئلہ: Orthography and Alphabetics issue in Balochi language. Hanken, 2(01), 1–16. Retrieved from http://hanken.uob.edu.pk/journal/index.php/hanken/article/view/196