بلوچی اب رہبند ءُ نبشتہ رہبند: پشدر جیڑہ ءُ گیشوار
Keywords:
Orthography ,writing system, differences, impliative
Abstract
Formation of an Orthography is a major task to articulate it in a language. Most of the world languages are confronting the orthographic issues in different countries.
Balochi is one of the major languages in Pakistan, but it still awaits a standard orthography. The attempts of different academies and Balochi orthographic experts are admirable from the last seventy years, but because of a vast geography of the Baloch people in different neighboring countries, the Baloch people could not become successful to formulate a standard orthography.
This paper focuses the different orthographic efforts of linguists, literary men and academies from the last seventy years and its outcomes in the modern Balochi literature.
References
بلوچ،حکیم،(2011)ماہتاک بلوچیہ،تاکدیم53-3مارچ۔اپریل
بیگل،محمدبیگ(سال نیست)چھاپ نہ بوتگیں نبشانک
بزدار،حاجی مومن،بزداراسحاق(1973)گیدی کسہ ہشتمی،بلوچی اکیڈمی
پہ گیشترمعلومداری ءِ واستا بچاراِت سیدیک آزات ءِ کتاب"تناپیں تران" ءَ
پہوال غنی (سال نیست)چھاپ نہ بوتگیں نبشتانکے مناچہ واجہ ءِجندءِگورا دست کپتگ اے نبشتانک بلوچی اکیڈمیءِسیمینارے ءَوانگ بوتگ۔
عبدالقیوم حاجی،(1102)بلوچی بومیا،بلوچی اکیڈمی
ماہتاک بلوچی گوانک،تاکدیم 20-8ماہتاک بلوچی سساتاکدیم20-5جولائی 2011پنجگور،ماہتاک بلوچی،تاکدیم15-13ستمبر2010،کوئٹہ
ماہتاک بلوچی الس (2004)سیدنمبر،اسلام آباد
ماہتاک بلوچی زند(2011)،تاکدیم27-40اپریل نوشکی
ماہتاک بلوچی گوانک(2011)تاکدیم 25-11مارچ گوادر
ماہتاک بلوچی گوانک(2011)تاکدیم 25-12مارچ گوادر
مری،محمودخان،(1961)گیدی قصہ دہمی،بلوچی اکیڈمی کوئٹہ
ہاشمی،سیدظہورشاہ (2011)بلوچی بنگیجی کورس، سیدریفرنس کتابجاہ کراچی
ہاشمی،سیدظہورشاہ (2000)سیدگنج، سیدہاشمی اکیڈمی گوادر
ہاشمی،سیدظہورشاہ (1962)بلوچی سیاھگ ءِراست نبیسگ ،سیدہاشمی اکیڈمی لیاری کراچی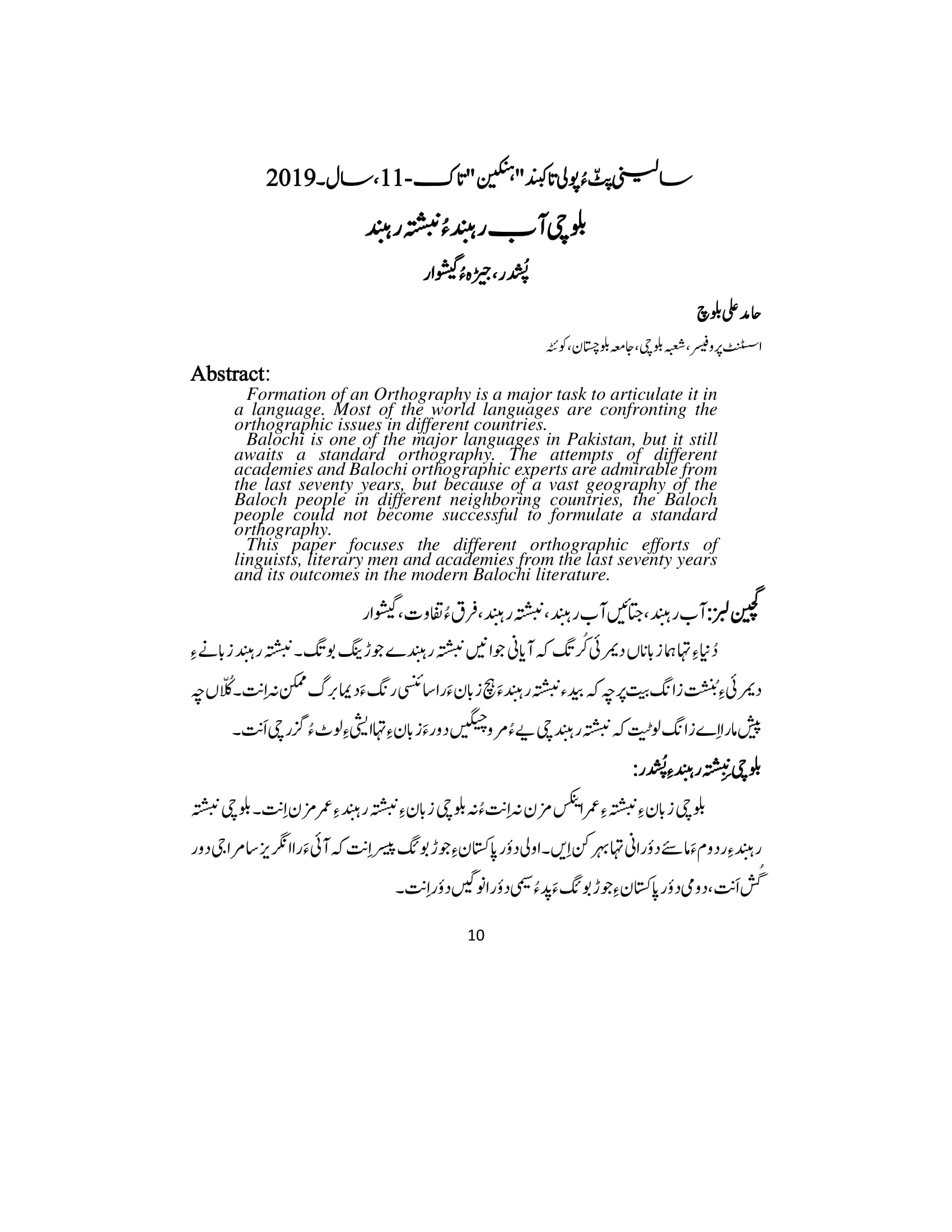 Downloads
How to Cite
Baloch, H. A. (2019). بلوچی اب رہبند ءُ نبشتہ رہبند: پشدر جیڑہ ءُ گیشوار. Hanken, 11(1), 10–42. Retrieved from http://hanken.uob.edu.pk/journal/index.php/hanken/article/view/17