"بکن کہ تو ببو " گدارءؐ ازمی ءُ پگری وانشت
A Critical and Artistic Study of the novel "Bekan ke tao bobu"
Keywords:
Psychology, Psychological Problem, Existence, Limitation of Existence, Existent expert, Existence Novel
Abstract
 In this paper, it has been discussed how geniusly Muneer Ahmed Badeeni has penned down the novel (Bekan keh tho Bubo) that surrounds the life of junior clerk named Mukhtar as the main character of the novel, struggles to reach the grade of deputy secretary. He suffers in various problems to compete with his familial difficulties and faces psychological disturbances. Like other his novels and short stories, Muneer Badeeni also focuses the philosophical aspect in his novel. The readers, while reading this novel, can find many philosophical theories such as, Existentialism, conscientiousness and others are included. This novel too, engulfs the psychological complications of Mukhtar and makes him the rival with Deedag (another character in the novel) and at the end he will be the reason of his death. Moreover, this novel deals with a unique subject of the society which may have been highlighted before. 
References
بادینی،منیراحمد(2007)کن کہ تو ببو،نیوکالج پبلیکشنز
قاضی ،جاوید،(1998)وجودیت،فکشن ہاوس لاہور
Fergusan, Mary Anne (1981) Image of Women in literature, Boston, Mifflin
Company
Sartre, Jean -Paul (2007) Existentialism is A Human, Edited by John Kulka,
Yale university press. (Originally published in 1946)
Hegal, G.W.F (1914) lectures on the philosophy of History, Translated by J.Sibree, M.A London: G.Bell and sons. Ltd.
Sartre, Jean -Paul (2007) Existentialism is A Human, Edited by John Kulka,
Yale university press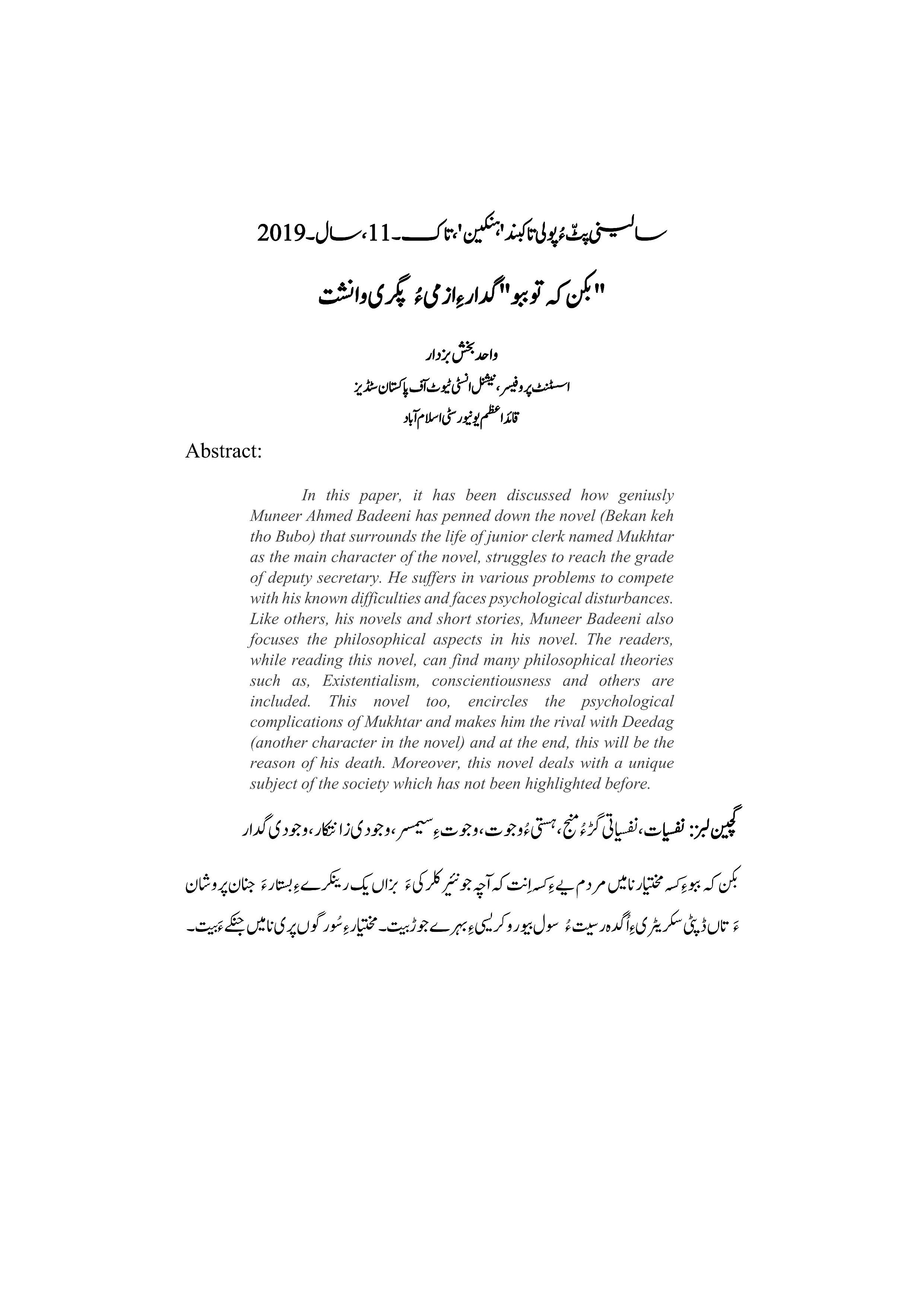 Downloads
How to Cite
Buzdar, W. B. (2019). "بکن کہ تو ببو " گدارءؐ ازمی ءُ پگری وانشت : A Critical and Artistic Study of the novel "Bekan ke tao bobu". Hanken, 11(1), 1–9. Retrieved from http://hanken.uob.edu.pk/journal/index.php/hanken/article/view/16