بلوچی گدارانی تہافیمیزم
Feminism in Balochi Novel
Keywords:
Feminism, Costal Area, feeling, peace, thrist, shap a cham
Abstract
            Feminism is such a movement which purpose to respect woman in a society to bring equal to men so that they lead a standard of life as men. In Balochi literature we can see severe instance where a gist of feminism exist. If we talk about Balochi Novel. It is read in a larger quantity than any other field of fiction. In Balochi novel a gist of feminism exist. Balochi novels are written various subjects which are composed of rural, urban, philosophical, and social subjects.
            In all these subjects the character of woman exists in different forms. There is no during that the rule of women in Balochi society has a great importance. In this respect the idea of feminism in Balochi literature is indispensable. In this research paper the research of feminism is Balochi Novels is observed.
References
آدم(2017)ماہیکان،بلوچی اکیڈمی کوئٹہ
بادینی،م(2012)پریبانی پارت،نیوکالج پبلیکشنز
بادینی،م(2014)شاری،نیوکالج پبلیکشنز
پرواز،غ(2000)مہرءِ ہوشام،بلوچی اکیڈمی کوئٹہ
پرواز،غ(2017)ماہ ءِ سرءُ روچ ءِ چیر،بلوچستان اکیڈمی تربت
حیات،ش(2016)نازی ءُ بہرام،بلوچی اکیڈمی کوئٹہ
دوستین،۱(2008)سوتکال،گام پبلی کیشنزگوادر
دوست،ع(2013)بلوچی دیوان،بلوچی لبزانکی دیوان کوئٹہ
شاد،ش(2017)،ردانک کسہ شعر،بلوچی اکیڈمی کسہ
عابد،ا(2001)پیشگال، نل ءِ توار،فقیرمحمدعنبربلوچی اکیڈمی کوئٹہ
فقیر،ع(2001)نل ءِ توار،بلوچی اکیڈمی کوئٹہ
فقیر،ع(2018)رژن ءِ شہار،ریدگ پبلیکشنزبلوچستان
میر،ش(2016)نبشتانک،تاکبندازم کولواہ
ہاشمی،س(976)نازک،ندکار شنگکار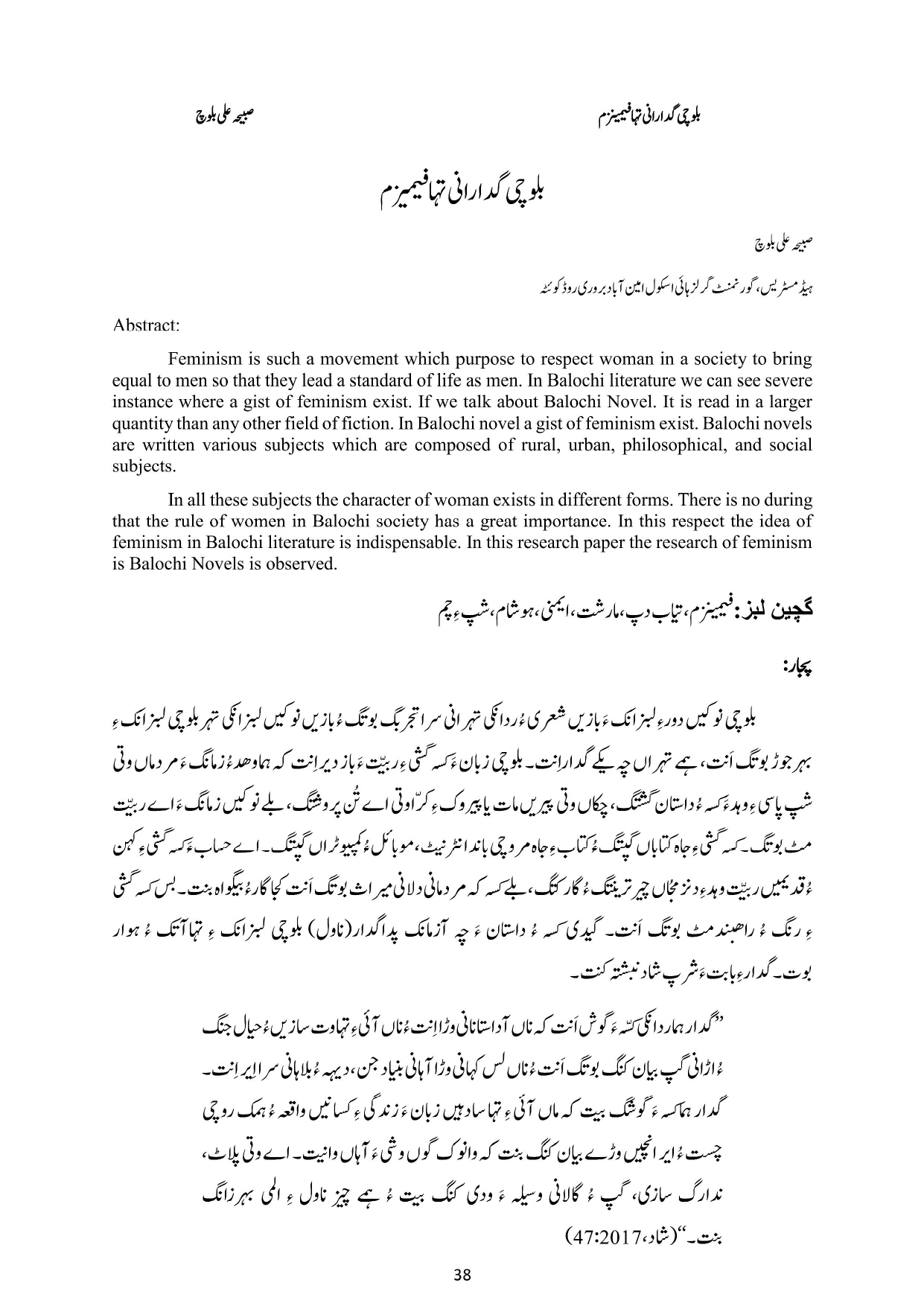 Downloads
How to Cite
Baloch, S. A. . (2021). بلوچی گدارانی تہافیمیزم : Feminism in Balochi Novel. Hanken, 13(1), 38–49. Retrieved from http://hanken.uob.edu.pk/journal/index.php/hanken/article/view/158