Environmental Study of Wilderness Aesthetic of Balochi Poetry Analysis of Homer Kilkori's O Talo Taalo
Keywords:
Wilderness Aesthetic, Environmental Study, Environmental Alienation, Language
Abstract
This paper analyses Homer Kilkori's romantic poetry O Tall and Nimble (O Talo Taalo او ٹلو ٹالو) on the ground of wilderness aesthetic. Particularly this topic refers an environmental study of wilderness. This paper suggests the way to get rid of environmental alienation, which comes from non-collective consciousness, and it entertains importance of wilderness aesthetic.
The first premise of wilderness aesthetic I will draw from Berleant's work and I will formalize his work to sketch a method. In this method language becomes essence / foundation of structure. For making the worth of concerning method I will utilize Porteous' conception of 'having', 'doing' and 'being'. These things present collective aesthetic consciousness. The paper will conclude that collective aesthetic consciousness provides a teleological ground which reserves collection against alienation.
References
Baloch, Hameed. 2016. Balochistan Ethno-botany: an exhaustive collection of medicinal and economically important plants from Balochistan. Lasbela: Lasbela University of Agriculture, Water and Marine Science.
Berleant, Arnold. 2005. Aesthetics and Environment: theme and variation on Art and Culture. Burlington USA: Ashgate Publishing Company
Madeja, Stanley S. (Nov. 1971). Aesthetic Education: An Area of Study. Art Education, Vol. 24. No. 08. (page 16 to 19). National Art Education Assosiation. http://www.jstore.org/stable/3191609.
Porteous, J. Douglas. 1996. Environmental Aesthetic: ideas, politics and planning. London and New York: Routledge
Shad, Faqir. 2016. Miraas. Mand: Mula Fazil Labzanki Majli. The Researcher translates the poem into English.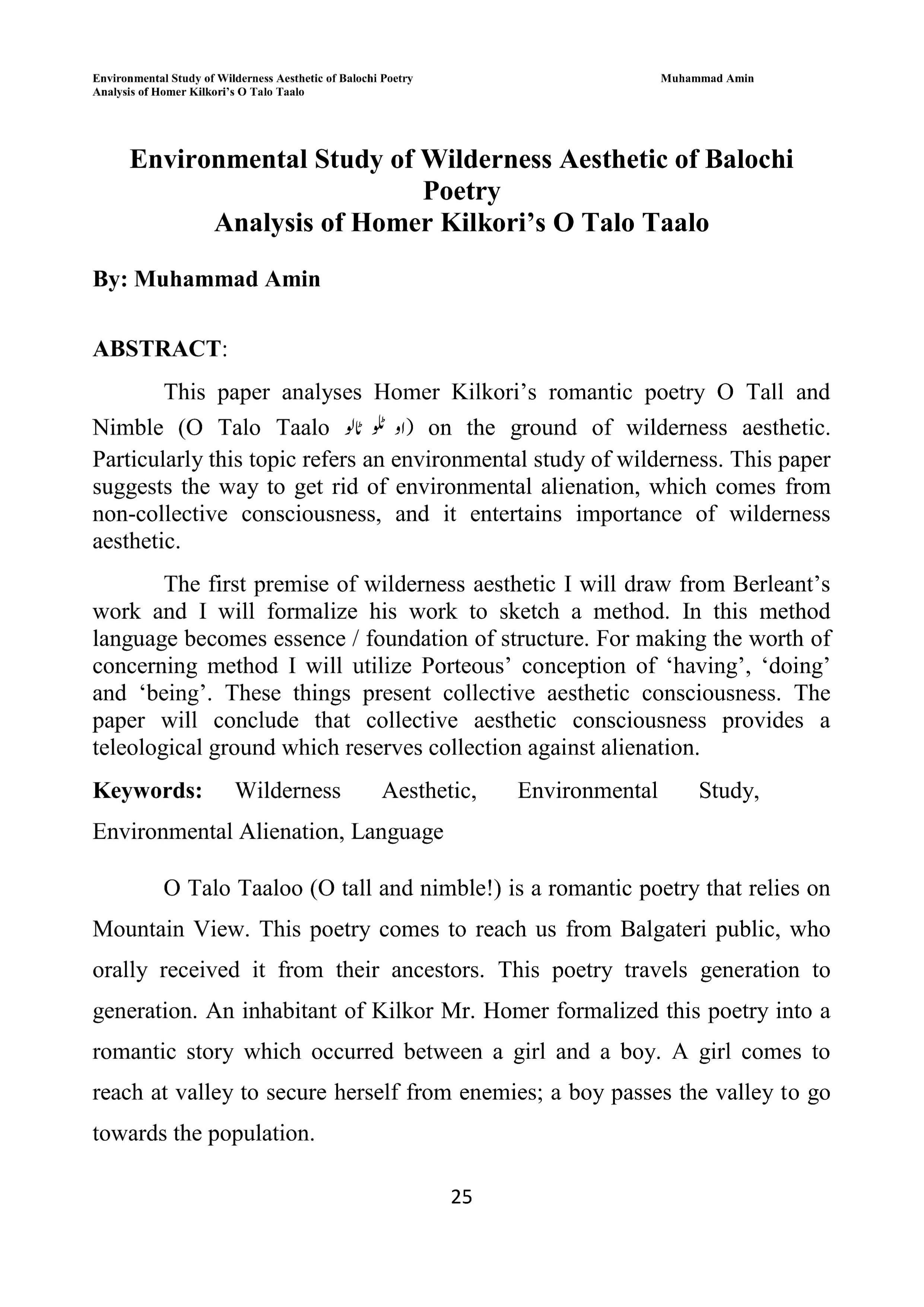 Downloads
How to Cite
Amin, M. . (2020). Environmental Study of Wilderness Aesthetic of Balochi Poetry Analysis of Homer Kilkori's O Talo Taalo. Hanken, 12(1), 26–36. Retrieved from http://hanken.uob.edu.pk/journal/index.php/hanken/article/view/14