غنی پروازءُ ناگمانءِ آزمانکانی دیم پہ دیمی وانشت
Comparative Studies of short Stories of Ghani Parwaz and Naguman
Keywords:
Comparative, Short Story, Study, Balochi, Litarature, Language
Abstract
Ghani Parvaz and Nágumán are the prominent short story writers in the Balochi literature, who wrote on the different issues of the Baloch society, using the same themes, but in different styles. The writing style, the usage of language, especially the usage of idioms, a good plot and a good climax makes the short stories of Naguman stronger than the short stories of Ghani Parvaz.
This paper discusses the writing styles, the usage of language, the plot and climax of both short story writers and finds out the writing style differences between them.
References
پرواز، غنی ( 1992)سانکل۔بلوچی اکیڈمی کوئٹہ
پرواز،غنی(1997)مِہر پہ بہا گیپت نہ بیت۔بلوچی اکیڈمی کوئٹہ
پرواز،غنی(2001)مُرتگیں مردءِ پچیں چم ۔بلوچی اکیڈمی کوئٹہ
پرواز،غنی(2008)بندیں چم کہ پچ بنت ۔بلوچستان اکیڈمی تربت
ناگمان(2012)دارءِ اپس ۔بلوچی ادبی مجلس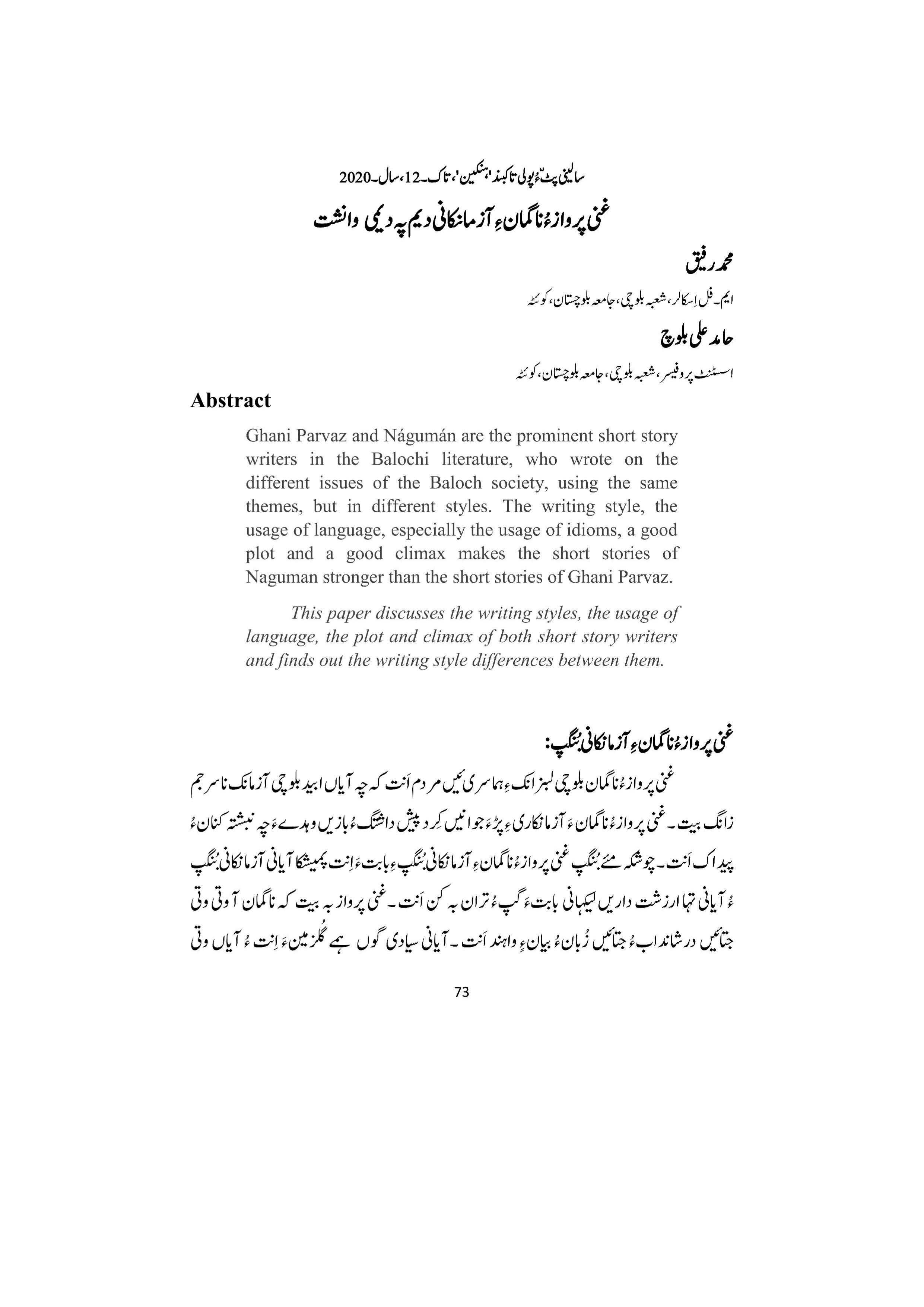 Downloads
How to Cite
Rafiq, M. ., & Baloch, D. A. . (2020). غنی پروازءُ ناگمانءِ آزمانکانی دیم پہ دیمی وانشت: Comparative Studies of short Stories of Ghani Parwaz and Naguman. Hanken, 12(1), 73–89. Retrieved from http://hanken.uob.edu.pk/journal/index.php/hanken/article/view/11