Development and Socio-Economic backwardness of Balochistan
Keywords:
Development, complex, transformation
Abstract
Development is a complex term. It has been defined by Stiglitz, Sen and Coleman and Nixson as transformation, enhancing capabilities and improvement, respectively. Balochistan which is the largest Province is facing many problems in certain areas. Its population is scattered, people mostly live in small hamlets with little amenities of life. The economy of the province is agricultural and horticultural and social setup is to a great extent tribal and traditional. Education is in shambles, literacy rate is very low and teachers do not perform their duty properly. To address the myriad of problems in Balochistan, there is a dire need of investment, increasing literacy rate and quality of education, marketing and export of agricultural products, tax incentives for industry, judicious use of mineral. Tackling these problems is a Herculean task, however some suggestions have been highlighted in the paper which could help in further study in alleviating some of the problems.
References
Baloch, S. Balochistan its Politics & Economics. Quetta : Gosha-e-Adab
Colman, D., Nixson, F.I. (1986). Economics of change in less developed countries. Oxford, OX : P. Allan Publishers.
Cowen, M., & Shenton, R. (1996). Doctrines of development. London: Routledge.
Haider, S.F. (2004). Economic development of Balochistan. Karachi
Schumacher, E. (1973). Small is beautiful. New York: Harper & Row.
Stiglitz, J.E. (2002). Globalization and its discontents. New York: W.W.Norton.
Steenbergen, F.V. (1996). Land, Water, and Ethnicity. In Titus, P (Ed.) Marginality and modernity. Karachi : Oxford University Press.
Webster, A. (1984). Introduction to the sociology of development. Houndmills, Basingstoke, Hampshire: Macmillan.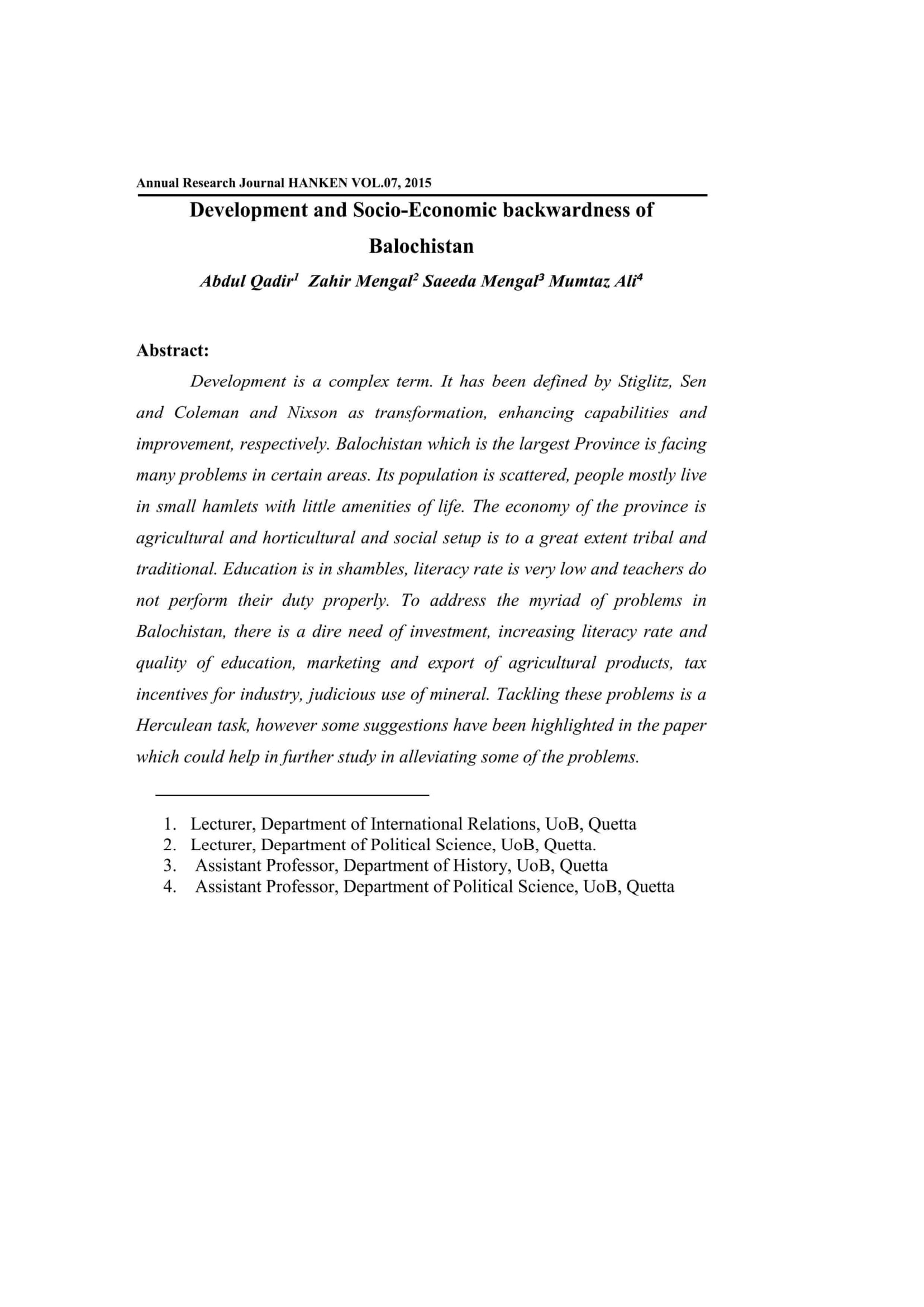 Downloads
How to Cite
Qadir, A. ., Mengal, . Z. ., Mengal, S., & Ali, M. . (2015). Development and Socio-Economic backwardness of Balochistan. Hanken, 7(1), 19–29. Retrieved from http://hanken.uob.edu.pk/journal/index.php/hanken/article/view/103