BALOCHI A DISAPPEARING LANGUAGE IN PUNJAB PROVINCE OF PAKISTAN
Keywords:
Punjab, province, Pakhtoon Khawh)
Abstract
 The Balochi is an old language of Pakistan, mostly spoken in Balochistan, Sindh and Punjab provinces of the country. But it is rapidly disappearing from face of Punjab province as it has got no opportunity of being medium of instruction in educational institutions and no Balochi Department could be opened in any university of the province. If a language is lost its whole literature, culture and past history is lost which is a great loss of knowledge for mankind. Due to other language's pressure the new Baloch generation avoids speaking Balochi and  usually speaks more spoken other languages. Many words of: English, Urdu, Punjabi and Jatki (Saraiki) languages are being mixed in Balochi language so it is losing its classical form and beauty in the  provice. Balochi Language which completely disappeared from North West Frontier Province (Khyber Pakhtoon Khawh) of Pakistan; is rapidly going to face the same fate in the Punjab Province of Pakistan.
References
(1). Quran e Majeed: Surah e Tuaha-20: Verse: 114.
(2). Quran e Majeed: Surah e Rome-30: Verse: 22, (Wa min aayateyhi an khalq o ssamawaat e wal arz e w akhtelaafo alsaynatekum wa alwaanekum…And his signs are: the creation of the skies and the earth and the variety of your languages and your colours.)
(3). The different genres of Balochi poetry can be perused in the famous book: Popular Poetry of the Baloches, Vol. I & II, written by M. Longworth Dames, in 1907 and published for the Folk lore Society by David Nutt, 57-59, London, Pp. xxxiv+ 204+224.
(4)(www.google.com,www.unesco.org/endangered-languages/ ), link: FAQ on endangered languages (Frequent Asked Questions on Endangered Languages); What can be done to save a language from disappearing?, approached on: 22 June 2015.
(5). Stephen R. Anderson: How Many Languages Are There in the World?, Linguistic Society of America,www.Google.com,www.linguisticsociety.org , approached on: 22 June 2015.
(6). Board of Intermediate and Secondary Education, Lahore (1991) A Hand Book of Curicula and Syllabi for the Secondary School Examination to be held in 1991 (Academic Session 1989-91), Pp. ii & 5.
(7). Ghulam Qasim Mujahid (July 2000) "Dera Ghazi Khan ka Mard e Jarri Major General ® Amir Hamza Khan Qaisrani Baloch", Hab Balochistan, Mahtak Balochi Labzank, Vol. 11, Issue: 69, Pp. 29-33.
(8). Iqbal, [Dr. Allama Muhammad] (August 1991) Baang e Dra, (included in: Kulyat e Iqbal), Edition: II, Lahore, Sheikh Ghulam Ali and sons (private) limited publishers, 199 Circular road, Chowk Anaar Kali, P. 248.
(9). Gazetteer of the Dera Ismail Khan District 1883-84 (1884), Lahore, Arya press, P. 58.
(10). Gazetteer of the Montgomery District 1883-84 (1884), Lahore, Arya press, Ram Das, P. 65.
(11). Gazetteer of the Multan District 1923-24 (1926), Lahore, Superintendent Government Printing, Punjab. In 1924 The Balochs of Multan-Lodhran area had given up their Balochi language as mentioned in Gazetteer that: " The Belochis of the district are chiefly Rinds and Korais. They have long been for practical purpose, ordinary Jats, having forgotten their old language, disused their old costume." P.91.
(12). Punjab District Gazetteers, Volume XXXIV-A, Muzaffar Garh District (1929), Lahore, Superintendent Government Printing, Punjab, P. 75.
(13). Notification of Governor General Muhammad Ali Jinnah, dated: 15 August 1947, Appendix A Political and Pass port Branch, No. 5010-PP-47/50683, in which it is written that: "I Muhammad Ali Jinnah, Governor General of Pakistan, hereby declare that all laws that were in force in the Baluchistan tribal areas including Marri and Bugti tribal areas and in such of the Baluch tribal areas adjoining to Dera Ghazi Khan district of the Punjab as are not included in Baluchistan on the 14th day of August 1947, will continue to be in force, and all subsidies and allowances hitherto paid will continue to be paid by the Government of Pakistan." P.9
(14). Letter of the Registrar Ghazi University, Dera Ghazi Khan; addressed to the Deputy Secretary (Admn.), Governor's Secretariat, Punjab, Lahore, Numbering: GU-DGK/Admn. 57/485 dated: 28 May 2015.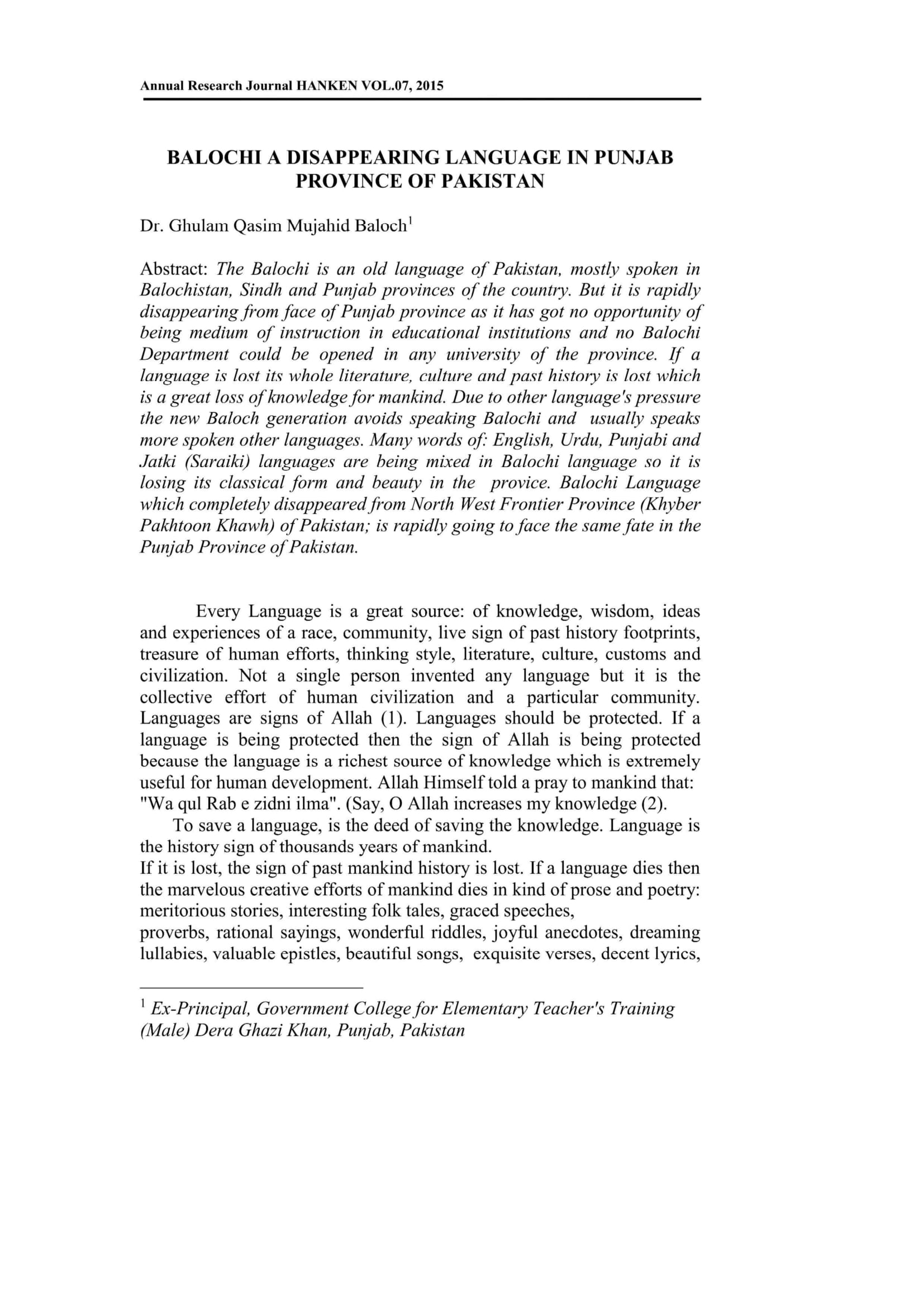 Downloads
How to Cite
Baloch, D. G. Q. M. . (2015). BALOCHI A DISAPPEARING LANGUAGE IN PUNJAB PROVINCE OF PAKISTAN. Hanken, 7(1), 1–8. Retrieved from http://hanken.uob.edu.pk/journal/index.php/hanken/article/view/101